Malaysian rare earth plant decision delayed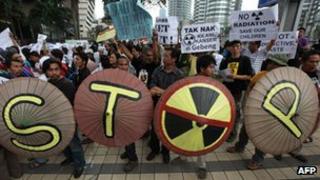 A Malaysian court has delayed a decision in an ongoing battle over a rare earth plant opposed by environmental groups.
In September, Australian miner Lynas was granted the license to operate a rare earth refinery in Malaysia's eastern state of Pahang.
However, activists filed an injunction saying toxic waste from the plant would harm the environment.
The court said it would now rule on the activists' challenge on 10 October.
Rare earths are a collection of metals used in many consumer electronics.
Crucial supply
The plant will process material from Lynas' Mount Weld mine in Western Australia. The company said it planned to start operations at the refinery in October.
At full capacity the facility could be producing one sixth of the world's supply of rare earths. It is seen as a potential counterweight to China's domination of the rare earth industry.
China currently produces more than 90% of global supply but has started restricting exports.
The metals are used in everything from smartphones to electric cars, and many more popular products.
However, Lynas has faced major opposition in Malaysia from activists who say that the facility poses health risks for locals.
In February, when Lynas was granted a conditional license by Malaysia's Atomic Energy Licensing Board, there were mass protests.
Thousands of people rallied against the plant over concerns that toxic waste would seep into the land and water, harming the environment and people's health.
Lynas has said that any toxic waste would not be harmful to humans. Final approval for the facility was granted in September.
The miner has support from the Malaysian government and previous attempts by activists to prevent operations at the plant have been unsuccessful.