Is Britain experiencing a golden age of engineering?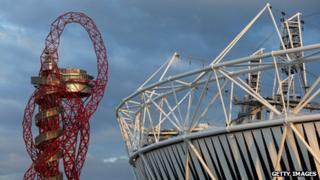 Evan Davis has been climbing bridges and tunnelling underground investigating Britain's creaking infrastructure and offers a personal view on why we may be about to embark on a new age of epic engineering projects.
We all have golden memories of the summer of 2012 - Jubilee street parties and triumphs for Team GB.
But my favourite memento is in front of me as I write: a ball of London clay. It is a reminder of one of my highlights - a morning on board Phyllis.
Phyllis is one of the tunnel boring machines for Crossrail and one of the most extraordinary characters I met visiting some of the most exciting infrastructure in Britain.
Crossrail is the new railway which will run from West to East right across London. It is the biggest engineering project in Europe - and Phyllis herself is not exactly dainty.
She is 150 metres long, and weighs 1,000 tonnes.
When I joined her while filming a BBC documentary, she was burrowing under Paddington heading towards Farringdon, staffed by a team of around 20 tunnellers.
It is hot, hard and time-consuming work - the first trains are not due to run until 2018.
Crossrail is a prime example of infrastructure. It is a rather deadly word, but I think it is exciting stuff, the civil engineering which makes Britain tick - the bridges, tunnels, power and water networks, which bind us together.
And it does not have to be epic engineering - it is also the pipes under your road.
The mighty Phyllis is also a perfect example of why we need infrastructure. It is about providing space for us to grow in the long term.
"Crossrail is a good example of putting in 10% more transport infrastructure to give you that lift, to give you that extra horizon of capacity for the future," said Andrew Wolstenholme, Crossrail's Chief Executive.
And that's exactly what infrastructure is for - giving us capacity for the future.
Whether it is finding ways to funnel more water to the thirsty South East of England or developing better broadband delivery to cope with the ways we're increasingly working and playing online, we need engineering to adapt to the ways we are changing.
Think of it as future-proofing Britain. And that will not come cheap.
The Oxford economist Professor Dieter Helm told me it would cost around £500 billion of public and private money to pull off the work we're already committed to.
Knowing what to build and where is far from easy in a changing world - and we will undoubtedly make mistakes. That is in the very nature of infrastructure.
But Dieter Helm believes we shouldn't use that as an excuse for inaction.
"If we just stick our heads in the sand and do nothing then it isn't going to be a pretty sight going forward and the British economy is not going to be in a fit state to take on all those other countries, which are confronting these problems," Helm said.
Now undoubtedly, we face some very British challenges when it comes to infrastructure.
We rightly cherish our back yards and green spaces, and we'll defend them passionately when projects are announced. We live in a democracy, and we like to debate these things, often for many years.
And historically, the British have always been rather wary of grand engineering projects - perhaps understandably, given that many of them have been delivered late and over budget.
Yet there are grounds for optimism.
Before the Olympic Games began I explored a side of the Olympic Park you did not see this summer - the extraordinary network of tunnels 30 metres beneath it.
These tunnels allowed the removal of 52 huge pylons which previously crossed the Olympic site - and the electricity cables to be buried underground.
The tunnels are just one small but fascinating bit of the Olympic infrastructure that underpinned the success of the games, and it was proof that we can pull off those big projects when we put our mind to it.
Sir John Armitt, the Chairman of the Olympic Delivery Authority, explained why it worked so well.
"The thing about an Olympics is you have to finish it on time. There's a fixed end date. Second thing, you really want political consensus and we've had political consensus.
"Third thing, you can't be held up by planning. We were given planning powers. So that helped very considerably. You have to have a sensible budget, and we were given a sensible budget by Treasury," he said.
Now those are conditions which others can only dream of - on other major projects deadlines often slip, politicians often can't achieve consensus, and the planning process takes years.
But the Olympics has crystallised a view that we're better placed than ever to pull off the kind of engineering we need.
In fact, we have been getting better at it for some time - many in the industry would see High Speed 1, the fast line from the Channel Tunnel to London's St Pancras station which was completed in 2007, as a key turning point.
Britain has a wonderful infrastructure heritage.
"We probably have the greatest heritage in the world, in terms of inspirational individuals," says architect Lord Foster.
"Look at Brunel, he created tunnels, bridges, ports, ships. I mean the breadth of that ambition, we should be creating in that spirit."
Our Victorian predecessors built the infrastructure we still rely on today like our train lines and our sewers and for years we've continued to export those skills.
But we have often been tentative about applying them at home.
But what I have seen has showed me that we are now bringing those skills home - on projects from the new £1.5bn Forth Bridge, to the National Grid's power tunnels under London.
The summer of 2012 taught us that we could afford to believe in ourselves a bit more, to be a bit more ambitious as a nation. It is a lesson we are learning in infrastructure, too.