Lloyds Banking Group and Co-op hit by system errors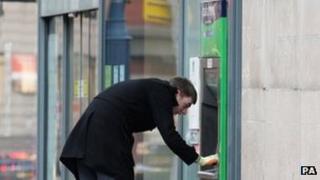 Two major banking groups have said that system errors which caused problems for customers have been fixed.
Users of Lloyds TSB debit cards, ATMs, and the bank's online banking service complained of difficulties, along with customers at the Halifax.
Customers at the Co-operative Bank were also affected by a "temporary issue".
But both banks said the problems were now fixed, although Lloyds said a backlog of transactions was being worked through.
A spokeswoman for the Halifax, part of Lloyds Banking Group, said the hitches were the result of a "systems failure", which had affected the group's telephone systems as well as ATMs and online services.
"Lloyds Banking Group experienced technical issues that affected some customers. All of our systems are now up and running," said a spokeswoman for the banking group.
"We are working hard to process the transactions impacted by this problem and they will be resolved before the close of play today. We know our customers rely on us, and we apologise for the inconvenience we have caused them."
Friday is the busiest day of the week for cash machine withdrawals.
Earlier this summer hundreds of thousands of account holders at RBS, NatWest and Ulster Bank suffered disruption due to a huge computer failure. Then in July, customers at Nationwide found debit card payments were taken from their accounts twice.
Apology
A spokesman for the Co-op said a separate problem to Lloyds meant there had been a problem for some Co-op customers in accessing their accounts.
"We can confirm that our systems are now fully operational and customers should now be able to use their accounts as normal," a Co-op spokeswoman said.
"We would like to apologise for the inconvenience caused by this temporary issue."
The problems come shortly after the Co-op agreed terms to buy 632 branches from Lloyds Banking Group.
About 4.8 million Lloyds customers will eventually be transferred to the Co-op, giving it about 7% of the current account market, although the deal is yet to be signed and no customers have yet been moved.
Under the planned deal, 283 Lloyds TSB branches in England and Wales will move over to the Co-op, along with 164 branches of Cheltenham & Gloucester, and 185 Lloyds TSB Scotland branches.
The deal with the Co-op will take the Co-op's total branches to almost 1,000.