George Osborne: Drop rights for a stake in firm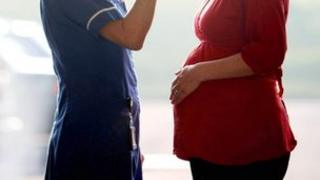 Employees will be able to forfeit some employment rights in exchange for a stake in the firm they work for, the chancellor has announced.
George Osborne, in his Conservative conference speech, said that the shares that workers were given would be exempt from capital gains tax.
He claimed that the owner-employee contract would be ideal for staff at fast-growing firms.
But unions have said it would be an attack on workers' rights.
Rights forfeited
The UK Treasury said that companies of any size would be able to use the new contract, with a planned start date of April next year.
Employees would be given shares valued at between £2,000 and £50,000, which would be exempt of any capital gains tax.
The thinking is that workers would be more closely linked with the success, or otherwise, of the company they worked for, and so be more engaged.
However, in return, staff would have to give up various employment rights. These include:
Cover for unfair dismissal and redundancy
The right to request flexible working and time off for training
Mothers giving eight weeks' notice of the date they are to return from maternity leave. Instead they must give 16 weeks' notice
Under the plans, the new contracts would be optional for those already working for a firm that wishes to offer the new deal.
However, companies could decide to offer solely the new kind of contract to new staff.
"This idea is particularly suited to new businesses starting up and small and medium-sized firms," Mr Osborne said.
"Get shares and become owners of the company you work for. Owners, workers and the taxman, all in it together."
'No game-changer'
John Longworth, director general of the British Chambers of Commerce (BCC), gave the proposal a cautious welcome.
"[This] could be a useful option for some new and fast-growing businesses. It is an innovative and imaginative proposal that deserves to be tried out, but it is unlikely to be a game-changer," he said.
John Walker, of the Federation of Small Businesses, also said that only a few businesses might adopt the scheme, although it was an "innovative policy".
But the idea was condemned by TUC general secretary Brendan Barber.
"We deplore any attack on maternity provision or protection against unfair dismissal," he said.
"But these complex proposals do not look as if they will have very much impact, as few small businesses will want to tie themselves up in the tangle of red tape necessary to trigger these exemptions.
"This looks more to be said for effect than because it will make much difference, but we will be vigilant to ensure that they do not represent the thin end of a future anti-employee wedge."
The plans come shortly after the government received a report by venture capitalist Adrian Beecroft that made suggestions about reducing red tape for businesses, but which prompted a political row.