Bank of England governor: What does the job involve?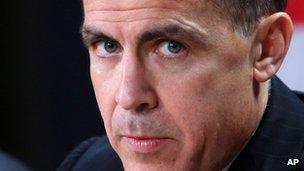 The government has appointed Mark Carney, the head of the Canadian central bank, as the new governor of the Bank of England.
The surprise appointment has been widely praised as an impressive candidate, with Chancellor George Osborne calling him "the outstanding central banker of his generation".
He will certainly have his work cut out, particularly in light of the new regulatory powers coming the Bank's way after the FSA is broken up next year.
He will in fact be responsible for overseeing the Bank's three main responsibilities: keeping a lid on inflation; ensuring the entire banking system does not run into the sand; and making sure individual banks do not go bust, landing the taxpayers with a huge bill for bailing them out.
What skills does he need?
He is in charge of the Bank of England and all that it is responsible for.
And what it is responsible for is very important indeed, because the Bank is at the heart of the UK's financial system.
The job advert summed it up thus: "The successful candidate will have experience of working in, or with, a central bank or similar institution; or will have worked at the most senior level in a major bank or other financial institution.
"He or she will demonstrate strong leadership, management and policy skills; will have an advanced understanding of financial markets and good economic knowledge.
"He or she will be a strong communicator, have good interpersonal skills and will be a person of undisputed integrity and standing."
He will also need a particularly thick skin, if only to withstand the type of blunt questioning that was directed towards predecessor Sir Mervyn King by members of the Treasury Committee during the banking crisis.
A key role of the Bank is to keep inflation low.
To do this it sets interest rates each month, to ensure prices do not rise by more, or less, than 2% a year.
That is a target set for it by the government.
As part of its responsibility for what is called "monetary stability" it also makes sure there are enough notes and coins in circulation.
The Bank and its governor are at the heart of dealing with crises, as we saw with the banking crisis of 2008 and 2009, and the recent Libor scandal.
This comes under the job of ensuring "financial stability" which is all about making sure the entire financial system works and does not grind to a halt.
It is a responsibility the Bank currently shares with the Treasury and the Financial Services Authority (FSA).
Interestingly, the Bank has no formal powers yet to impose its will in this area.
This will give the bank real teeth to enforce its will if, for instance, it thinks banks are undermining their own finances by giving too much money to staff via bonuses or too much to shareholders via dividends, rather than putting enough money away in reserve for a rainy day.
From next year, the Bank will re-assume formal responsibility for the regulation of individual banks.
That job was taken from it by the then Labour Chancellor Gordon Brown in 1997 and given to the FSA.
However, the FSA is being abolished and the Bank is getting these supervisory responsibilities back.
So it will be able to intervene directly in the day-to-day running of any bank which it thinks is running excessive risks with its borrowing or lending.
So the Bank is getting bigger and more important?
It currently employs about 2,000 staff, but about 1,400 more who currently work supervising banks and insurance firms will transfer from the FSA, sometime in spring 2013.
Most of them will be housed in an office block on which the Bank has taken a long lease, at 20 Moorgate, in the City.
The governor can't do all this himself can he?
Besides the staff, Mr Carney has two deputy governors.
One is responsible for monetary stability, the other for financial stability. And next year there will be a third deputy, responsible for the regulation of banks.
However, the outgoing governor, Sir Mervyn King, has been very much "hands-on", insisting on chairing both the Bank's Monetary Policy Committee and its newer Financial Policy Committee.
Does the new governor have to know everything there is to know about banking?
But even Sir Mervyn admitted recently that he was surprised to learn that bank traders, seeking to manipulate the Libor interest rate, could make huge profits from even the smallest movements of the rate, amounting in some cases to just one or two hundredths of one percent.
Despite his experience and reputation, the new governor will not be omniscient, however useful that quality would be.
Nothing is perfect, but the whole thrust of the government's current reforms to banking regulation are to ensure the authorities are awake and take action to avoid crises, instead of reacting once they have happened.
One obvious concern is that Mr Carney will simply have too many demands on his time.
Delegating responsibility and authority through the deputy governors seems the obvious way to deal with that.
How much will the new governor be paid?
The BBC understands that Mr Carney will be offered a total pay package of about £624,000 a year.
That's about £100,000 more than Sir Mervyn, who gets a basic salary of £305,000, with very generous pension contributions taking his combined package up to £519,000.
Related Internet Links
The BBC is not responsible for the content of external sites.