Fifa determined to tackle international match-fixing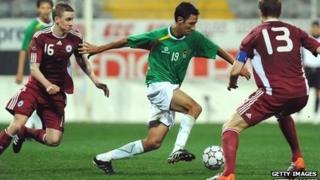 The world of international football has been hit by a number of high-profile match-fixing scandals over the past couple of years.
Among the most notorious were two international matches played in Turkey in early 2011 when seven goals were scored - all from penalties awarded by referees who were later banned for life.
And just two weeks ago Fifa president Sepp Blatter warned that match-fixing endangered "the integrity of the game".
Last year world governing body Fifa monitored a total of 800 international football matches, at different age levels and including women's events, for possible suspicious betting patterns.
The probes were carried out by the world governing body's Early Warning System (EWS), which monitors games between national teams and the subsequent betting odds across the course of the match.
And the head of the Fifa EWS, Jacek Wojdyla, says a number of those 2011 games are now being scrutinised further, but would not reveal to the BBC which ones are in the spotlight.
"We detected some matches which are now under investigation by Fifa," says the Switzerland-based lawyer.
Not 'perfect'
Interpol figures suggest that sports betting has grown into a $1tn industry, with close to three-quarters of that sum gambled on football.
That makes the rewards lucrative for professional gangs of match-fixers, who hope to see a huge return from bookmakers on the money they spend on corrupting players or match officials.
The Fifa EWS team - which first came into operation for the 2006 World Cup - does not have the powers to investigate, but passes on information to Fifa about suspicions it may have about games.
The Fifa investigations and disciplinary teams can then take action.
"The Early Warning System can be quite effective, but we don't claim to be perfect," says Mr Wojdyla, in London to attend a World Sports Law Report seminar on sport and gambling.
"Match-fixing is a cross-border, multi-national, problem; it cannot be eliminated but it can be minimised."
As well as monitoring those 800 games, the EWS team also studied 40 million different betting patterns last year, using its in-house technological systems.
Information can come from informants, from their own close study of betting patterns, or from bookmakers - as the EWS has agreements with 400 gambling organisations globally.
Other sources of information can include Interpol - with which it signed an agreement last year - betting experts or the media.
'Passive corruption'
Two highly unusual games, where Fifa has already investigated and handed down bans, were those between Latvia and Bolivia and between Estonia and Bulgaria, in 2011.
Both games took place in a double-header staged in Antalya in Turkey, last February.
The two games produced seven goals, all scored from penalties, with only about 100 spectators turning up to watch the games.
Six referees who officiated in the games were found guilty of match-fixing and banned for life.
The officials were found guilty of "passive corruption" and "unlawfully influencing match results" by Fifa's disciplinary committee.
"We received information from an informer that something unusual was taking place in these matches," says Mr Wojdyla, who previously worked for Credit Suisse.
The game had been arranged by a front company for the match-fixers called Footy Media, and the games were not advertised in advance.
And there were no advance ticket sales, which explained the almost non-existent crowd.
"There were lots of suspicious bets, and all seven goals came from penalties.
"It was obvious the matches were fixed," says Mr Wojdyla.
'Open dialogue'
The EWS team monitors all Fifa-sanctioned international games at all levels, so this year it has not only been looking at Rio 2014 World Cup qualifying matches, but also other tournaments.
These include the the Women's U-20 World Cup, the Women's U-17 World Cup, and the Club World Championship in Japan later this year.
As well as prevention, the EWS system also seeks to raise awareness and to educate players about the sanctions they will face if they get involved in match-fixing.
Players taking part in Fifa tournaments are given access to a confidential hotline if they think something suspicious is happening.
But Mr Wojdyla points out that the monitoring of betting patterns also has to take into account developments on the field of play, such as player substitutions or red cards.
"Not every unusual betting pattern means match-fixing," he adds.
The Fifa EWS team is offering its expertise to smaller national football leagues around the world, and has already signed agreements with Japan's J League (for leagues 1 and 2) and with the ML in the US.
But the main focus is to stay ahead of the gambling syndicates who look to fix international matches.
"It needs a wide range of of measures - prevention, monitoring, investigation, disciplinary - in order to tackle the problem," says Mr Wojdyla.
"There needs to be an open dialogue, and exchange of information."