Housing fuels modest US economy expansion - Beige Book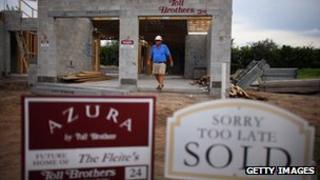 The US economy has expanded "modestly" in the past six weeks thanks to a stronger housing market, according to a closely-watched survey by the US Federal Reserve.
"Widespread improvement" in the housing market helped to mask largely flat consumer spending, the Fed's Beige Book suggested.
Hiring conditions were also little changed from August, it said.
The Beige Book canvasses opinion from firms across the US eight times a year.
The report is used by the Fed to help set interest rates.
'Significant gains'
Existing home sales strengthened in all 12 districts surveyed, while new home construction and sales "mostly improved", the central bank said.
Consumer spending, which accounts for about 70% of US economic output, was "flat to up slightly".
Sales were undermined by rising petrol prices, political uncertainty in the run-up to the US election in November, and concerns about the so-called fiscal cliff, when automatic spending cuts and tax increases kick in at the beginning of next year.
The report also suggested manufacturing activity was mixed, although more districts reported that conditions had improved rather than worsened. However, several districts reported "significant gains" in construction, energy and transport.
The report is in keeping with the slow economic growth the US posted between April and May, the last period for which official growth figures have been published. During the three-month period, the US economy grew at an annualised rate of 1.3%.
The Beige Book also said employment conditions were "little changed" from its last report at the end of August. Again, political uncertainty, together with concerns about the continuing impact of the eurozone debt crisis, appeared to restrain hiring across many districts.
Last week, figures showed a surprise fall in the US unemployment rate to 7.8% in September from 8.1% in August. The US economy added 114,000 jobs during the month.
Analysts said the report was slightly more upbeat than August's survey.
"Signs of slowing or mixed growth were less evident than in the previous report," said Eduardo Martinez at Moody's Analytics.
However, it failed to halt the slide on Wall Street, where the Dow Jones index closed down 1%.