Spain credit rating cut by S&P to BBB-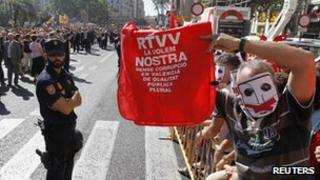 Ratings agency Standard & Poor's has downgraded Spain's credit rating, highlighting a deepening recession and mounting pressure on Madrid's finances.
S&P cut Spanish debt from BBB+ to BBB-, one level above junk status, and warned of possible further downgrades.
Spain is struggling with high debt levels and the highest rate of unemployment in the eurozone.
Madrid has introduced drastic spending cuts and tax rises, but many think it will have no option but seek a bailout.
"The downgrade reflects our view of mounting risk to Spain's public finances, due to rising economic and political pressures," S&P said.
"The deepening economic recession is limiting the Spanish government's policy options."
Rising debt
Last month, the government unveiled its latest budget designed to make savings of around 13bn euros ($16.7bn; £10.4bn) next year, by cutting public sector wages, education, health and social services.
The cuts were the latest in a series of austerity measures that have sparked angry protests across Spain.
Despite the cuts, tax rises, labour market and pension reforms, the Spanish government has said the country's overall debt levels will rise next year to more than 90% of total economic output.
The country's borrowing costs have remained high for months, leading many analysts to argue it is only a matter of time before Madrid is forced to ask its eurozone partners for financial assistance.
However, last week, Spanish Economy Minister Luis de Guindos denied his country would be asking for help.
"Spain does not need a bailout at all," he said.