Mortgage lending jumps in August, lenders say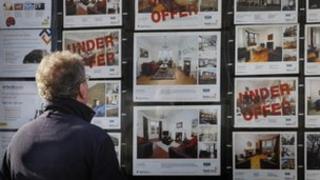 Mortgage lending to house buyers jumped from July to August, according to the Council of Mortgage Lenders (CML).
The number of new loans granted rose by 12% to 55,300, a figure which was also 11% higher than in August last year.
House sales have rising gently this year, although they are still low compared with the middle of the last decade before the financial crisis.
The CML said it was too early to tell whether recent government initiatives were having an effect.
"House purchase lending showed an encouraging rise in August, but it's unclear whether this reflects just the unravelling of previous factors such as the Jubilee and the Olympic Games, or a shift in the underlying picture," said the CML's director general, Paul Smee.
"We will wait and see whether schemes such as Funding for Lending and NewBuy provide a further boost to the market in coming months."