MP wants answers from NatWest over app fraud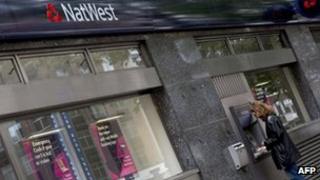 The chair of the Treasury Select Committee says he will seek answers from the head of NatWest in the light of the Get Cash fraud.
Andrew Tyrie MP says banks must ensure new banking technology is secure.
Dozens of customers have told Radio 4's Money Box programme they have been defrauded by thieves using the Get Cash mobile phone application.
NatWest has promised to refund losses and suspended the app which lets customers withdraw cash without a card.
Andrew Tyrie, chair of the Treasury Select Committee, told Radio 4's Money Box programme he would be writing to Stephen Hester, the chief executive of the bank to express his concerns and seek answers.
"It seems possible that all NatWest customers may be vulnerable to this type of fraud even if they haven't asked to take advantage of this new system," said Mr Tyrie.
"Before they introduce these systems, they really have to be very sure they've buttoned up the fraud risk, but in this case it appears that didn't happen."
Delayed response
NatWest only recently launched Get Cash, along with another system called Emergency Cash, which involves calling a phone operator.
Both systems generate a security code allowing customers to withdraw money from cash machines without a card.
On Saturday 6 October, NatWest said it had suspended the Get Cash system as part of a planned update.
A few days later the bank admitted it had taken this action as a result of fraud.
Mr Tyrie believes the bank could have reacted more quickly in tackling the problem and refunding customers.
"It looks as if the bank was slow out of the traps to deal with this," he said.
He added that banks must find the right balance between their customers enjoying the convenience of new technology and keeping them safe from fraud.
"There is a tension between what customers may want in terms of ease of access and what's needed in order to protect them, and that's a difficult area for the bank to operate in and I understand that," said Mr Tyrie.
Fraud technique
Money Box has discovered that some patterns are starting to emerge after the programme analysed the experiences of a number of customers.
Not only have the fraudsters raided people's current accounts, through online banking they have managed to transfer money from people's savings accounts so they could take even more.
Often the fraudsters seem to have paid in a small amount of money into the victim's account, before withdrawing large sums.
And whilst the customers are based around the country, the criminals have been withdrawing money mainly from London, with some withdrawals also in Manchester.
The crooks also time their withdrawals carefully.
They tend to happen around midnight on a Friday night, so the cash is taken at the end of the day and first thing the next morning in the space of a few minutes.
This avoids going over the customer's daily cash machine withdrawal limit.
Angry customers
So far the bank has not been able to explain fully how the frauds have been perpetrated.
It says its is trying to make the system more secure and says it will refund customers who have lost money.
"We are aware of an increase in frauds targeting customers with phishing attacks to gain access to the Get Cash service," the bank said.
"We have currently disabled the Get Cash service while we increase the level of security required.
"We will enable the service again once this change is complete. We will refund any customers who have suffered loss as a result of fraud via the Get Cash service," the bank added.
Despite the refund promises, many customers are furious that NatWest is still accusing them of disclosing their personal details in response to phishing emails, even though they vehemently deny this.
A Money Box listener, Steve from Kent, was told in a letter he had admitted doing this, when he insists he had not.
"I think it's appalling. I would certainly never answer any email, certainly not giving out my personal details," he said.
The Financial Services Authority (FSA) says it is aware of the problem.
Money Box is broadcast on Saturdays at 12:00 GMT on BBC Radio 4 and repeated on Sundays at 21:00 BST.
You can listen again via the BBC iPlayer or by downloading Money Box podcast.