Virgin Money 'in contact' with RBS over bank branch sale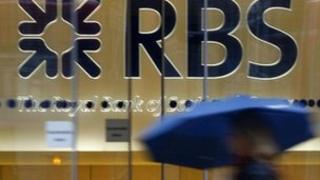 Virgin Money has had "informal" contact with Royal Bank of Scotland about taking over more than 300 branches which RBS originally planned to sell to Santander, the BBC understands.
That deal collapsed on Friday, with the Spanish bank saying an agreement was taking too long to complete.
There were reports that Santander was struggling with IT difficulties at RBS.
But RBS chairman Philip Hampton said IT challenges could "always be overcome", and hinted at other reasons.
RBS signed a preliminary agreement with Santander in August 2010 to offload 316 bank branches and thousands of small business accounts.
The sale was ordered by the European Commission as a requirement for RBS's £45bn rescue by the UK government during the financial crisis.
Friday's decision by Santander to withdraw from the purchase left RBS looking for a new buyer.
The BBC understands that Virgin is "very interested" in exploring the sale, but has emphasised that these are early days.
Earlier this year, Virgin took control of Northern Rock, which was nationalised in 2008, and rebranded its 75 branches.
When the RBS business first came up for sale in 2010, Virgin was among a number of bidders who lost out to Santander.
The BBC understands that while Virgin has not made any formal approach to RBS, conversations took place soon after the Santander deal collapsed, with a Virgin Money source saying that it was RBS that initiated the contact.
It is believed that at least one other company may also be interested in buying the branches and other assets, which were thought to have an original sale price of £1.65bn.
However, RBS has indicated that it remains a reluctant seller and the bank's chairman, Sir Philip Hampton, has suggested the European Commission could be persuaded to reconsider its demand for a sell-off.
'Pretty severe'
Speaking in Tokyo, on the sidelines of the International Monetary Fund's annual meeting, Mr Hampton said: "What's changed since the original decision is the climate around state aid.
"The commission has been much, much more flexible. It used to be a pretty severe regime but they are making different judgements.
"Governments have to negotiate state aid. As it happens, the UK retail banking market is more competitive now than it has been for decades."
He also hinted that the suggestions that Santander was finding it difficult to integrate the two banks' IT systems might not be the only reason for the sale's collapse.
"People have speculated that it's not an easy time in general for banks to take on a lot of risk-weighted assets," Mr Hampton said. "IT challenges always get overcome."
RBS and Santander were originally due to complete the sale by December 2011. Santander said in a statement on Friday that "it is now apparent that this revised target [February 2013] will not be achieved."
On Friday, RBS chief executive Stephen Hester said that much of the "heavy lifting" work on the sale was complete. The business earmarked for sale has been ring-fenced and is run under separate management, led by David Gillespie.
Dubbed "Rainbow", the operation made an operating profit of £186m in the first six months of this year and RBS has said in the past it could use the old Williams & Glyn's bank brand name.
The UK largest trade union, Unite, has urged the government to press the European Commission to lift its sale requirement.