Thailand to auction 3G mobile network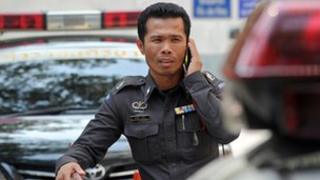 Thailand's National Broadcasting and Telecommunications Commission (NBTC) has begun auctioning its third generation (3G) telecommunications network.
The country's three largest private mobile networks have submitted bids.
Thailand lags behind its neighbours in the region in implementing 3G technology.
Domestic political struggles have held up previous attempts at upgrading its communications infrastructure.
Monsinee Keeratikrainon, from Frost & Sullivan technology analysts based in Bangkok, said that a successful auction would alleviate the infrastructure bottleneck when it came to Thailand's telecoms industry.
She said it would also increase the broadband utilisation rate to 80% from the current 10%.
"3G will promote growth not only amongst telecom operators, but across different industry sectors, including small and medium enterprises."
Lagging behind
Advanced Wireless Network, DTAC Network and Real Future are the three networks vying for a piece of the 3G pie.
In 2010, a Thai court halted a 3G licence auction at the last minute, after state-owned telecom giant CAT argued that the regulator at that time, the National Telecommunications Commission, had no authority to conduct the bidding.
The government later overhauled the regulatory system and set up the NBTC, giving it a mandate to auction off the 3G bandwidth.
The regulator is auctioning a total of 45 megahertz (Mhz) of bandwidth. The minimum price for each five MHz block has been set at 4.5bn Thai baht ($146m; £91m). Nine blocks are up for grabs.
The framework for Thailand's 3G network allows for multiple providers. But each winner, or mobile network provider will be allowed to own a maximum of 15MHz, or three blocks.
Thailand's 3G auction takes place nearly a decade after Japan first implemented its 3G network. Japan is now preparing to introduce 4G networks.