UK house prices show sharp regional differences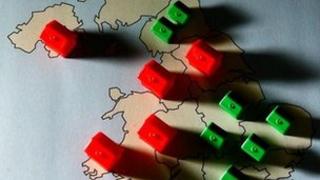 London and Northern Ireland stood at each end of the spectrum of house price changes over the past year, official figures show.
Prices rose by 6.3% in London in the 12 months to August, but dropped by 12.8% in Northern Ireland.
The figures, from the Office for National Statistics (ONS), suggested that, on average, prices had been relatively stable across the UK.
The average UK home cost £234,000, the ONS said.
UK house prices rose by 1.8% in the year to August, the figures showed.
This included a 2.1% increase in England, driven by the rises in the capital. Prices also rose by 0.5% in Scotland, and 1.4% in Wales, but these rises were partially offset by the drop in Northern Ireland.
Prices changed by 0.1% between July and August.
Various house price surveys have suggested that prices remained relatively unchanged in recent times, owing in part to a lack of activity in the UK housing market.
However, experts have consistently warned that pricing at a local level can be affected by a range of factors including local schools and availability of homes on the market.