BoE's Tucker: Worst may still be ahead for banking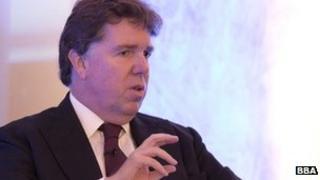 The "worst may still be ahead" for the banking system, the Bank of England's deputy governor has told a gathering of leading bankers.
Paul Tucker said reserves held by banks were still not calibrated for the "end-of-the-world risks" that remained a possibility.
He added that bank bosses should be paid in debt, so they had a stake in the survival of their institutions.
Mr Tucker is a leading contender to be the Bank of England's next governor.
Speaking at the British Bankers' Association's (BBA's) annual conference in London, Mr Tucker said that the most important issue ahead was ensuring that banks could be allowed to fail in an orderly way.
This should be done without taxpayer support, he said. This would also make it easier for new, smaller entrants to the banking sector and encourage competition in a UK market dominated by a small number of institutions.
However, he also sounded a positive note for the City of London, saying that the Bank believed - if the correct structure was in place - that the financial centre would prosper in the future.
Separately, Paul Volcker, a former chairman of the US Federal Reserve and author of banking reforms in the US, voiced scepticism about plans in the UK to ring-fence banks' retail operations from their investment banking operations.
The UK government hopes to have final legislation on this change, proposed by the Vickers report on banking, in place by 2015.
Mr Volcker's proposals in the US, known as the Volcker rule, aim to ban banks' proprietary trading - taking speculative risks on the markets with their own rather than clients' money - and limit banks investing in hedge funds or private equity funds. Banks will have until July 2014 to comply with the rule.
"If you impose the ring-fence right now it will be effective to a considerable extent - compared to where we are now," he told the UK's Parliamentary Commission on Banking Standards.
"There will be holes in the fence, but that doesn't mean it won't be effective the day after you impose it… but over time they will get bigger."
He also said that banks raising their capital standards to meet Basel III requirements was still "subject to uncertainties and political pressures".
Customer protection
At the BBA conference, Mr Tucker was one of a number of speakers from the top table of regulators and UK banks; representatives from politics and consumer groups were also speaking.
The deputy governor said that banks could be like the rest of the market economy by being allowed to fail.
He said that by paying banks' leadership in IOUs from their own banks, they would have a "powerful incentive" to ensure they are run safely.
Such a proposal was put forward earlier this month by a European Union advisory group, who suggested that bankers should accept bonds as part of their bonus, the value of which would fall if risky trades or lending lost money.
Mr Tucker said customers were becoming increasingly aware of the system of deposit protection that meant the first £85,000 of their savings, per person and per institution, was guaranteed if a bank went bust.
This was changing retail banking in a significant way, but in slow motion, he said.
There was an argument, he added, for more of the burden of this deposit guarantee to be taken on by the failing bank, rather than the rest of the industry.
Other speakers at the conference included Martin Wheatley, who will lead the new regulatory body called the Financial Conduct Authority.
On Tuesday, the government confirmed that it was accepting the recommendations of Mr Wheatley's review of Libor in full.
His report concluded that the system for setting the Libor inter-bank lending rate was broken and needed complete overhaul, including criminal prosecutions for those who try to manipulate it.
He told the conference that, to anyone who was nervous about how to operate under the new regime, "The answer is simple: don't lie."
Bankers will have to submit their real borrowing costs to the new authority which will oversee the setting of the Libor rate. Previously, they provided estimates, which left Libor open to abuse and dishonesty, he said.
Mr Wheatley called on bankers to stay involved so that they could benefit from a new and improved Libor.
"All we are asking is that banks continue in that process in good faith," he said
Collapsed standards
The conference also heard from Sir Nigel Wicks, who was named as the new chairman of the BBA. He was once an aide to former Prime Minister Margaret Thatcher.
"In this country and at this time, this vitally important industry is working to rebuild its reputation with its customers and to play its full part in restoring the UK's financial stability and helping to drive its economic recovery," Sir Nigel said after his appointment was announced.
He told the conference that everyone had to take personal responsibility for the restoration of trust in banking.
The previous chairman, Marcus Agius, resigned in the wake of the Libor scandal, along with his role as chairman of Barclays.
Andrew Tyrie, chairman of the Commons Treasury Committee, told the conference that standards had collapsed and trust in banks broken down.
Later, Greg Clark, financial secretary to the Treasury, said that regulation in the last decade had been found wanting and had been done through the rear-view mirror.
Chris Leslie, shadow financial secretary to the Treasury, said that the time had come to look at the portability of bank accounts.
This would allow consumers to take their account number with them when they moved banks, encouraging them to switch between institutions and prompting more competition in the industry.
He also argued against moving away from the model of free banking. At present, many consumers do not pay for a current account, but are charged for going overdrawn or for some other services.