Volvo names Haakan Samuelsson as new chief executive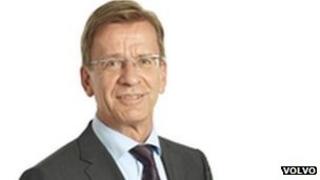 Chinese-owned carmaker Volvo has appointed a new chief executive to replace Stefan Jacoby.
Former MAN chief Haakan Samuelsson was appointed after it became clear that Mr Jacoby would not return to his post following a mild stroke in September.
Investors and rivals will be keen to see whether Mr Samuelsson will continue to pursue Mr Jacoby's strategy of moving the brand upmarket.
The goal would be to grow sales and bolster profits.
Mr Samuelsson said he was ready for the challenge, although "no other business is as demanding, complex and full of challenges as the automotive industry".
New definition of luxury
Mr Jacoby, who is said to be recovering from the stroke which limited mobility in his right arm and leg, had hoped to re-invent the Swedish brand by focusing on functional, elegant minimalist Scandinavian design.
In addition, he believed a sense of environmental responsibility was at the forefront of the minds of many buyers of luxury cars, hence he was eager to move away from what he saw as an old fashioned tendency in the motor industry to laud cars with lots of horse power and cylinders.
His hope had been that this strategy would establish Volvo as a serious, yet distinct, rival to German premium brands Audi, BMW and Mercedes.
So far there has been little evidence that the strategy is working. Volvo has cut production this year in response to sharp downturn in car sales in Europe, and its plan to start production in China has proven challenging.
Mr Jacoby's vision was backed by a whopping $11bn investment programme during the 2011 to 2016 period.
The investment far exceeds the $1.8bn price the Chinese carmaker Geely paid for Volvo when Ford sold the marque in spring 2010.