Philips profits more than double in third quarter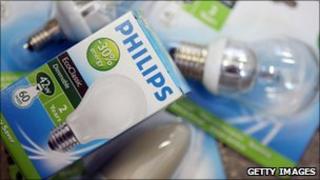 The Dutch lighting and consumer electronics giant Philips has seen earnings more than double after disposing of its loss-making television business.
Net profit for the third quarter was 169m euros ($220m; £138m) compared to 74m euros in the same period last year.
Shares in the company rose 4.6%.
But Philips warned it is is facing a string of "headwinds", including in Europe, which is suffering from the continuing debt crisis.
The company is reducing costs and said that cumulative savings amounted to 306m euros in the third quarter of 2012.
"We continue to experience strong economic headwinds on a global scale, which affect growth going forward," said chief executive Frans van Houten.
"We have full confidence in our ability to continue improving the operational and financial performance of the company.
"We now expect restructuring and acquisition-related charges of approximately 300m euros in the fourth quarter of 2012."
Last year, the company made a loss of 54m euros on televisions between July and September.
The firm is the world's largest lighting maker by sales and says that almost a quarter of the lights it sells are now LEDs.
Mr Van Houten said that it will have to close some factories that make traditional bulbs as a result.