Virgin Media's Usain Bolt ad campaign boosts business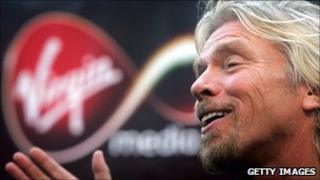 An advertising campaign featuring Olympic stars Mo Farah and Usain Bolt helped Virgin Media boost the number of new cable customers.
The pay-TV and broadband firm said it added 39,500 customers in the three months to end-September, compared with 6,300 for the same quarter last year.
Revenue was up 2.8% to £1.03bn for the three months.
Virgin said the percentage of people dropping the service during the quarter fell from 1.7% to 1.4%.
It said the lower churn rate was due to improved broadband speeds and the popularity of its TiVo digital service.
The average spend per user was also up 1.8%, the company said in a statement.
Neil Berkett, chief executive, said: "This has been a quarter where continued strong demand for superfast broadband and TiVo has led to lower churn and meaningful cable customer growth.
"Combined with progress in our business division, we have again delivered solid financial progress."
Virgin said that the number of customers taking its broadband speeds of 30mb or more increased by 452,900 to 1.8 million - or 42% of its total base. More than 40% of new broadband customers chose speeds of 60MB or faster, the company said.
The group grew its TV subscriber base by just 10,700 new customers, which was up on the same period last year when the company lost TV customers. The total number of TV customers stood at 3.78 million at the end of the quarter.
The battle for the online TV market has gathered pace this year after BT joined forces with other big names in the industry such as BBC to develop YouView, an internet connected set-top box.
And Sky has launched pay-as-you-go internet TV service Now TV to help it compete with the likes of Netflix and LoveFilm.