Strikes keep pounding South Africa's economy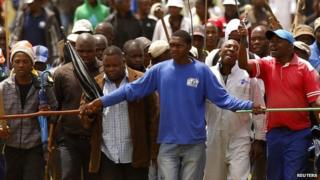 Jeanette Mwandla is annoyed.
Since last week, her journey to and from work has become more expensive and more time-consuming.
Usually, she catches the bus from Soweto to the centre of Johannesburg and then a minibus taxi out to the north east where she works in a suburban office park.
But last week, drivers from the Rea Vaya bus company, which is run by the Johannesburg municipality, went on strike.
Now Ms Mwandla has to take an additional taxi, which costs her an extra R50 ($5.80; £3.62) a day.
"The problem is, in town - now that the buses are on strike - there's a very long queue," she says. "You can stand there for half an hour to 45 minutes waiting for transport."
Ms Mwandla's story is just one of many involving the inconveniences that South Africans have had to put up with during this year's "strike season".
Recent industrial action by lorry drivers meant petrol stations ran dry, supermarkets ran low on stock, and even hospitals had to make alternative arrangements for deliveries of heating coal.
But when it comes to the economy, the real bruising comes from the point where the intense and violent strike season started, namely the mines.
Back in August, when workers at a little known platinum mine called Marikana near the town of Rustenburg went on a wildcat strike, few economists were revising their GDP growth numbers for South Africa.
Two-and-a-half months later, almost all of them are.
"South Africa is likely to record GDP growth closer to 2.5% this year, compared to the 2.7% initially forecast, as the productivity of the mining sector is afflicted by the strikes," observes one of them, Investec economist Annabel Bishop of Investec
'Disruptive process'
But it does not end there.
Recent downgrades by credit ratings agencies Moody's and Standard & Poor's have added to the concerns foreign investors already had about the mining sector.
Investec has calculated that since police shot 34 miners at Marikana, foreigners have sold R12bn ($1.39bn; £866m) worth of South African equities.
Last month, President Jacob Zuma said the mining strike alone has cost R3.1bn.
In a recent note to its clients, Morgan Stanley predicted the South African economy could shed as many as 85,000 jobs this year, in a country where the unemployment rate is at least 25%.
Businesses connected to the mining sector are bearing much of the pain.
While many of the supermarkets made alternative arrangements to get around the lorry drivers' strike, companies that count the mines among their customers do not have such flexibility.
For the explosives and chemicals company AECI, the miners' strikes create a particular problem.
With many mines shut completely, they are finding deliveries of their products turned away at the gates.
That creates huge difficulties for the company. It cannot simply stop its production chains and it does not have the capacity to store explosives and chemicals safely.
"It's a very disruptive process," says Graham Edwards, chief executive of AECI. "It causes the maximum financial harm to the suppliers."
'Too beautiful'
Just when this year's strike season in South Africa will be over is, at the moment, a matter of guesswork.
The truck drivers' strike is over and some mine labourers are returning to work, but a threatened mass walkout by some 200,000 municipal workers still hangs over the economy.
The longer all this labour unrest goes on, the more damage the economy sustains.
There are hard figures: For example, the world's third largest gold miner, AngloGold Ashanti, says it is losing 32,000oz of production every week, which equates to about $55m.
There is also the image of South Africa as an investment destination, which, once lost, would be very difficult to rebuild.
The downgrades by the ratings agencies have rattled many, not least President Zuma.
Countering the wave of negative media comment that has been building up for the past few weeks, a statement released by the presidency last weekend said: "Despite the challenges, South Africa is getting many things right. On the economic front, the economy possesses the necessary dynamism to position the country as a competitive player in a difficult global economic environment."
On Thursday, South Africa's finance minister, Pravin Gordhan, should give some indication about exactly what the country is getting right in his mini-budget speech to parliament.
Meanwhile, many miners are returning to work and the gold mining companies look set to sign a deal with the unions to "normalise relations".
So there is much light and shade in this year's strike season in South Africa.
But for Ms Mwandla the worries remain.
"What's happening in our beautiful country?" she asks.
"This country's too beautiful to go to waste."