Japan's women: Can they save the country's economy?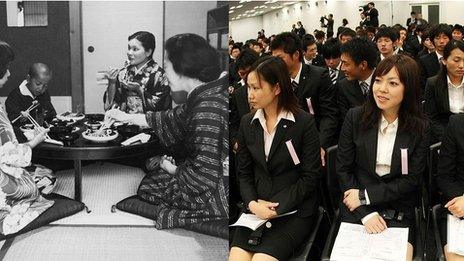 When Fumiko Hayashi entered the workforce straight after graduating from high school in 1965, the only things she was allowed to do were "simple tasks as a man's assistant".
Today, she is the mayor of the city of Yokohama and is one of the most powerful women in Japan with an impressive resume.
Before becoming a politician, she served as the president of Tokyo Nissan Auto Sales, chairperson and chief executive officer of retailer Daiei, president of BMW Tokyo and president of Fahren Tokyo (now Volkswagen).
However, her journey to the top was not an easy one.
"I wanted to have the same responsibilities as men so I kept changing my jobs and finally became a salesperson at Honda," she tells the BBC.
It was very unusual for a woman to be working for a car company, let alone in the sales department.
But what was even more unprecedented was that she became the top salesperson in her first year. Ten years later, she was offered a job by BMW Tokyo, followed by Volkswagen.
"Looking back, the companies which initially trusted me with a management role were all non-Japanese," she recalls.
Ms Hayashi's break with Honda came in 1977 when she was 31.
While the number of women in managerial roles has increased since then, the ratio compared to men continues to remain low.
"We still only account for about 1% of all the managers in the country," says Ms Hayashi.
That is one of many reasons why Japan ranks in the bottom quarter when it comes to gender equality.
That is only four places above India which was rated in another poll by the Thomson Reuters Foundation as the worst country to be a women among the Group of 20 (G20) countries.
The WEF report looks at how nations distribute resources and opportunities between men and women.
In areas such as the number of female legislators, senior officials and managers, Japan is one of Asia's worst performing countries.
The report says it shows that "women still make up a fairly low percentage of the senior and highly skilled positions".
That is despite Japan investing heavily in women's education.
Along with Qatar, Mexico and Saudi Arabia, Japan is described as having "an untapped but educated talent pool and would have much to gain through women's greater participation in the workforce".
Japan's female employment rate is at a record high of 60.1% according to the government's statistics.
But that is still much lower compared to men's participation rate of 80%.
Analysts say the gap is an opportunity for the authorities to boost the country's economic growth.
"If Japan could close its gender employment gap, we estimate that Japan's workforce could expand by 8.2 million," says Kathy Matsui, a Goldman Sachs strategist.
Ms Matsui has been writing about the importance of women's role in contributing to Japan's economic growth since 1999.
In her latest report she says that increased participation of women in the workforce could boost Japan's Gross Domestic Product (GDP) by as much as 15%.
The International Monetary Fund's first female Managing Director agrees.
Christine Lagarde told reporters during the IMF World Bank annual meetings in Tokyo that "women could actually save Japan".
"Today you have five out of 10 Japanese women out of the job market, as opposed to two out of 10 men," she said.
While some critics argue that there may not be enough jobs in the country amid lacklustre economic growth in recent years, Ms Matsui of Goldman Sachs says an ageing population means there will be more opportunities available in the near future.
In her report she says the proportion of elderly in Japan's population will double by 2055 from the 2005 level and the number of workers will halve.
She says the number of births are also set to fall to 40% during the same comparative period, further reducing the potential workforce.
However, getting more women into the workforce is just the first part of the battle.
Keeping them there is likely to be another challenge. Nearly 70% of Japanese women leave the workforce after having their first child.
"I used to think that they choose not to go back to work and some say it's wired in Japanese women's DNA to stay at home," says Ms Matsui.
"But I believe that it's only because of insufficient childcare and nursing care support."
According to Goldman Sachs, less than a third of Japanese children under the age of three spend time at daycare centres.
That is much lower compared to 63% in Denmark, 43% in France, and 40% in the US.
The government has made some progress in expanding the number of facilities to accept more children but it is still not enough according to Ms Matsui.
"It's very difficult as a woman to continue working in Japan after having a child, so as a result, there are not many role models for young women to follow."
For the Yokohama mayor Fumiko Hayashi, the biggest hurdle she faced in her career was "the 'no precedent' factor".
In her new role in politics, she is working to ensure that coming generation of Japanese women do not have to face that.
Related Internet Links
The BBC is not responsible for the content of external sites.