Carmakers and workers jostle over European factories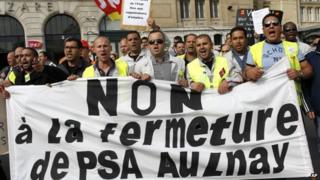 Ford's plan to close a factory in Belgium and two plants in the UK might be seen as an understandable response to terrible market conditions in Europe, where sales are falling at a rate not seen in a couple of decades.
But this is not merely a knee-jerk reaction to weak sales this year.
Instead, what Ford of Europe's chief executive Stephen Odell is trying do is to push through is a dramatic reduction in manufacturing capacity, in order to match a sharp and long-lasting fall in demand for its cars.
That might sound like a simple thing to do, but given that any decision to exit Genk would result in some 9,300 job losses, including an estimated 5,000 supplier jobs, with a further 1,400 jobs at risk in the UK, the plan is likely to be met with much resistance.
Certainly, in the past any attempts by European carmakers to address the industry's long-recognised over-capacity problem have been met with storms of protests.
In September, PSA Peugeot Citroen's decision to cut 8,000 jobs and close a factory in Aulnay outside Paris was met with street protests by unionised workers, who denounced the plan as a "declaration of war"
Fiat's chief executive Sergio Marchionne has repeatedly been heckled by workers incensed by his threats to pull the carmaker out of Italy unless they are prepared to give up many of their employment rights and accept new, flexible labour contracts.
In Germany, widespread industrial action has been avoided for now after the IG Metall union accepted Opel's demands for job cuts, as well as reduced pay and scaled back employment rights, though fears remain about the future of the carmaker's Bochum plant, which supports some 45,000 jobs directly and indirectly
To date, neither the carmakers' threats nor the unions' protests have been in vain.
In France, the government has responded and it is now demanding that PSA Peugeot Citroen's chief executive Philip Varin scales back the planned cuts in return for a 7bn euros ($9bn; £5.7bn) state guarantee for its finance division, Banque PSA Finance, aimed at preventing the carmaker from imploding.
In Italy, where Fiat's manufacturing operations are running at half capacity and where all investment has been suspended, the government appears to be close to granting Mr Marchionne special tax concessions to convince him to shift production from sister-company Chrysler's US factories to Italy.
And given Germany's history of helping out its carmakers during times of trouble, many industry observers would expect it to do so again were there to be German jobs at risk in the future.
Opportunity missed
Government assistance is obviously welcome in the short term, but it is not a given that it will be beneficial for either workers or companies in the long term.
Many of Europe's ageing car factories are hopelessly uncompetitive when compared with more modern manufacturing plants elsewhere in the world, industry officials and analysts agree.
This is largely because the old factories' costs are excessive, as a direct result of carmakers utilising no more than an estimated 70% of their current production capacity.
Consequently, European factories are unable to compete on price in global markets, which in turn makes it almost impossible to utilise the capacity to build cars for exports.
Thus many of Europe's carmakers - Fiat, PSA Peugeot Citroen and Opel/Vauxhall in particular - depend almost totally on fast-shrinking European markets, where the excess capacity is fuelling a crippling price war between manufacturers that are expected to suffer losses to the tune of several hundred million euros each this year.
Troubled European carmakers resent finding themselves in this situation.
Many in the industry feel that the current crisis could have been avoided had they taken the opportunity to close factories and cut capacity during the 2008-9 downturn, rather than accept short-term government scrappage schemes that carried them over.
To them, the outcome of Ford's talks with the union about Genk's eventual future is of huge importance.
If Ford's plans are eventually scuppered by some sort of combination of forceful opposition and government support, it will remain difficult for the others to curb capacity.
But if Ford gets away with it, the floodgates might open as others will want to follow suit.
The short-term impact on the motor industry's European workforce would be devastatingly painful, with tens of thousands of jobs on the line.
Many executives believe that would be a price worth paying if it safeguards the long-term future of the European car industry.
But that is obviously an argument few workers or politicians are prepared to accept.