Laos gets set to join the World Trade Organization
By Jonathan Head
BBC News, Bangkok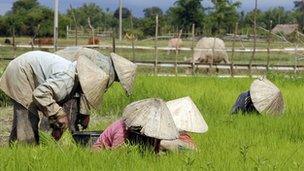 If you are lucky enough to live in one of the 17 countries where Beer Lao is available, you can enjoy the privilege of tasting an excellent beer, brewed using high-quality rice, and of consuming a product from the land-locked South East Asian nation of Laos.
With a population of just 6.5 million, an undeveloped, largely agrarian economy and a history of war and Communist rule, Laos doesn't export much to the rest of the world.
But a vote in Geneva could change that.
The World Trade Organization's (WTO) General Council is likely to approve Laos's 15-year-long bid for membership.
That will make it the WTO's 158th member, and the last of the 10 countries in the Association of South East Asian Nations (Asean) to join.
To reach this point, the Laos government has had to introduce a raft of new laws - more than 90, it says - covering everything from food safety to protecting intellectual property.
It has committed itself to reducing import tariffs to an average of less than 19%, and to stop subsidising agricultural exports.
It must also open up 10 "service sectors" of the economy to foreign competition.
In essence, Laos has agreed to be bound in its commercial dealings with other countries by a set of rules, adherence to which can be adjudicated by the WTO.
The negotiations began in 1996, but the first working group meeting, where the terms of membership are thrashed out, did not take place until 2004.
"This process has been long and tedious and very difficult for us," said Commerce and Industry Minister Nam Viyaketh - at the age of 54, a relatively youthful and liberal member of the Communist government.
When its neighbours Vietnam and China joined the WTO in 2007 and 2001 respectively, the effect was like turbo-charging their export-dependent manufacturing sectors.
With rules that could be arbitrated by the WTO, companies were willing to make big, long-term investments, and both countries had large, trainable workforces available, as well as tempting consumer markets.
Agriculture contributes more than half of annual gross domestic product (GDP) and employs 75% of the workforce.
Mining and hydro-electric power are the biggest export earners. Manufacturing is minuscule. The stock exchange, opened only last year, has only two companies listed on it.
WTO membership should encourage greater foreign investment, and should help Laos sustain its impressive growth rates of recent years, running between 6% and 8%.
But there is unlikely to be a Chinese or Vietnamese-style explosion of manufacturing for export.
The greater diversification of investors made possible by WTO membership will be welcomed, though, by a government that is nervous about the dominance of Chinese companies in Laos.
And any increase in manufacturing will have an impact in a country where employment opportunities are so limited.
There are lessons, though, from the experiences of China and Vietnam.
Like them, Laos is a one-party Communist state that tolerates little opposition and routinely jails dissenters.
It has an entrenched and unaccountable bureaucracy. One result of its rapid economic growth has been rising corruption.
Laos is ranked 154th in the world by the anti-corruption group Transparency International, much worse than Vietnam.
In Vietnam the Communist Party is now struggling to rein in corruption, which has raised fears that the banking sector, weighed down by improper loans to inefficient state companies, could collapse.
The conspicuous wealth of party officials and their families is eroding the legitimacy of the party.
And there are no signs that the party in Laos will loosen its hold on power, or become any more transparent in the way it rules.
It is just as much at risk of being corroded from within by corruption fuelled by a flood of investment as its fellow Communists in Vietnam.
Related Internet Links
The BBC is not responsible for the content of external sites.