Friday Boss: Mozilla's Gary Kovacs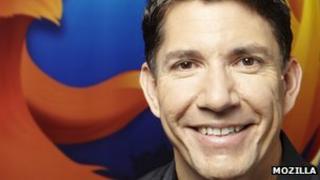 Firefox chief sees the future as mobile, transparent and private.
If any reminder was needed of the harsh realities of the internet business, the story of Netscape remains a sobering one.
Once a titan of the tech world, the company boasted an 80% plus share of the internet browser market during the mid 1990s. By 2006, this had been slashed to less than one per cent.
In 1998 Netscape begat the Mozilla Organisation, now the Mozilla Corporation, best known for its Firefox browser.
Gary Kovacs became the Mozilla Corporation's chief executive officer in October 2010, having previously held senior positions at IBM, Adobe and Sybase.
Firefox, which released the first version of its open source web browser in November 2004, currently holds around a quarter share of the market, with around 450 million users worldwide, behind Google Chrome and Microsoft's Internet Explorer, which each have around a third.
Kovacs, who has a bachelor of commerce and an MBA with distinction, from the University of Calgary, is clear about his product's importance. "The browser is an extremely competitive space because it is the first point where a user, a human being, will actually go on the internet, on the desktop.
"It has to be secure, it has to represent their privacy interests. It has to be quick and easy to use."
As for the sector as a whole, he believes that Microsoft did not innovate as quickly as it had previously. This allowed Google, as well as Mozilla, to become more competitive.
"It's a three horse race at this point," he adds (Apple's Safari browser is also in the mix). "It's pretty healthy."
Mozilla's mission "is really clear. It's to enable the web to be open and available for everyone in the world to prosper."
"We believe it's the most important connection mechanism of our world and it has to be open... It has to represent the user. We believe your keystrokes shouldn't go to one company."
Unlike its larger rivals Mozilla is a not-for-profit company, and does not release its revenue figures for public consumption. Having said that, Kovacs admits that these are "substantial... hundreds of millions (of dollars) per year".
And the R&D funding implied by such amounts means Kovacs is able to face the future with confidence... and a plan.
"We have a pretty deep set of technologies and where we're going is where the users are going.
The first 2.5 bn people connected over the internet have done so in the past 22 years, he says. The next 2.5 bn users will go online in the next five years.
And he predicts that most of this second group will come from developing countries and many will be below the poverty line.
"The Internet is about to go through a revolution like nothing we've seen in the past." And this revolution will be driven by the mobile web.
Today, Kovacs explains, "mobile is controlled by two companies" - Google and Apple - "and it is not open... And we aim to deliver mobile products to open it again."
Mozilla, he says, promises a set of applications and programs for local people and communities, rather than for a homogenised global market products.
In a world no longer dictated to by one or two worldwide leviathans, he envisages nothing less than a socio-economic revolution taking place, allowing farmers to trade their crops online at market prices; the provision of weather reports or enabling people to discover new friends around the world.
And Kovacs is engaged by two main themes in particular: privacy and transparency.
"I don't think any commercially oriented company is doing things that are horrible," he explains. "They're doing things that answer to their shareholders. Which doesn't mean it's in the best interests of all of humanity."
And Mozilla, he says, does not engage in the sort of data exploitation which has seemingly beguiled the sector. "We don't collect any data on any user," he says. "We do not aggregate, we do not market. We do not sell."
And he predicts that 2013 "is the year when privacy will be the conversation".
He is currently bullish about two products from Mozilla. Do Not Track allows users to opt out from being tracked by other websites and advertisers, while Collusion, a plug-in for Firefox and Google Chrome, allows web users to see, in real time, how they are being followed online, for instance by anonymous third parties.
"We post so much stuff online today it's actually frightening and most of us don't think about what's going to happen but we have quite a profile that anybody can get at. And it's being mined for all sorts of purposes. Transparency is the next stage of this thing."
"It's not that data is bad," Kovacs says, but we should be able to make choices about what happens to it.
And he says that he wants services like his online DVD retailer to know his preferences, so it can suggest the movies which he would like.
"But I don't want it to sell my data. I want to have the choice."