Crisis in Extremadura: Spain's worst-hit region?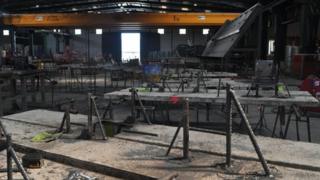 Extremadura is one of Spain's poorest regions. The economy there is dependent on a construction industry which is now stagnant in the wake of Spain's property boom and the public sector, which is being hit hard by the Spanish government's policy of austerity.
In 2007, at the height of the construction boom in Spain, Forma, a company based on the edge of the historic city of Caceres in Extremadura, which makes the metal foundations and structures for buildings, employed 180 people.
Now the company has just 10 workers, and the head of sales at Forma, Jose Maria Garcia, warns that if it fails to get another big contract within the next three months, the business will have to close.
Back then, "you couldn't even find enough workers", explains 57-year-old Mr Garcia.
"Now investment has completely dried up and that's creating terrible levels of unemployment."
Spain's banks funded the construction bubble, and because the property market crashed, those loans turned bad, leading to a eurozone bailout for some Spanish banks in June.
Spanish banks are estimated to hold 184bn euros (£148bn; $239bn) in toxic property assets.
"The banks aren't interested in financing new buildings. They're only interested in selling the property they already have," says Mr Garcia.
Fat Hill
Spain's construction bubble created places like Cerro Gordo, which translates into English as Fat Hill.
The modern housing estate of several thousand apartments and small houses lies just outside the city of Badajoz, which is right on the border with Portugal.
Like other modern Spanish property developments, supply at Cerro Gordo outstripped demand.
Some of the apartments are empty and a section of dozens of small houses is cornered off and unfinished.
The collapse of the property market in Spain meant that construction companies such as Forma suddenly went from having too much work to hardly any.
The unemployment rate in Extremadura now stands at 33%.
People like 28-year-old David Martin lost their jobs.
David is officially unemployed, but we met him at Cerro Gordo, fixing up his brother's new house.
"My brother sold his house before the crisis, and used all of his savings to buy this place," he tells us.
Unofficial work, via family and friends or by other means, is how many of Spain's 5.7 million unemployed now get by.
It is why many economists argue that the official figure of 25.0% unemployment in Spain does not reflect the reality of a growing black economy.
David says he used to get 80 to 100 euros a day. Now a day of manual work "will earn you 35 to 40 euros", he says.
'Intense' austerity
Spain and Extremadura's construction sector has not only suffered because of the collapse of private investment.
Public funding for infrastructure projects has been reduced dramatically as the country's regional and central governments try to balance their budgets.
As Prof Antonio Jurado of Extremadura University argues, the effects of austerity on this part of Spain will be "intense", partly because of the importance of the public sector for the regional economy.
One in three of the workforce in Extremadura is a civil servant.
Prof Jurado says that, to date, there have been very few job losses in the public sector.
However, he predicts that a new budget from the regional government this year will mean the loss of "many jobs in the public sector".
"It will then affect the rest of the economy, because other [economic] activity in Extremadura depends, in a large part, on the public sector and on public workers."
A shrinking state
Businesses in the region that rely on public money have already been hit.
In the past four years, Afimec, a human resources company which runs training courses for people who are unemployed, has seen its income from the regional government fall by half.
Pilar Coslado, who manages the firm's office in the city of Badajoz, says they are having to train the same number of people.
She says that until 2007-08 there was an "aggressive" policy of state subsidies for businesses in Extremadura.
"When the tap was turned off, many disappeared," she says.
Mrs Coslado argues that some subsidies, such as those her business receives to train people who are out of work, are a productive way of investing public money.
However, she believes cultural changes are needed to reduce the size of the public sector in Extremadura.
"In the past, being a civil servant has been seen as a job for life, which people don't have to worry about," she says.
"We need to generate a sense of entrepreneurship, and teach children that the easiest and best way of working is for yourself."
'More pain'
Analysts believe the Spanish government will soon make a second request to the eurozone for a rescue deal, following the bailout of its banking sector.
Carlos Cue, a senior political correspondent for El Pais newspaper, says another bailout will come with more economic conditions for Spain, which will affect the government's tax-and-spend policies.
"You can't be happy with a bailout," he says.
"The result is more austerity, more pain and more recession."
So if Spain does make a request, regions like Extremadura will probably have to make even more cuts to their public sector.
And so the number of people out of work there could rise even further.