Doing Business in China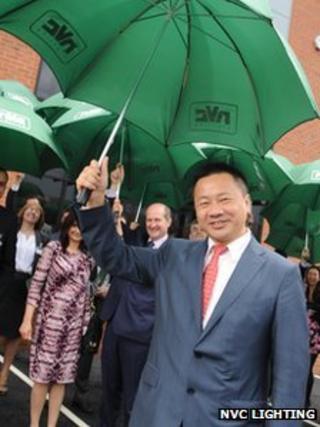 Wu Changjiang founded NVC Lighting in 1998. It has since gone on to become the biggest lighting manufacturer in China, and Mr Wu's 20% stake has helped to make him a billionaire (in Chinese yuan at least).
When I was a child, my family was the poorest in our village, and I remember that we were starving most of the time.
I was born in 1965, the year before the Cultural Revolution began, and I grew up during a tense and turbulent period in China.
My father was a coal miner. I and my two siblings lived with our mother in the countryside, where life was very hard and we often had nothing to eat.
As the eldest son, I did whatever I could to help my family, and started doing agricultural work when I was just 10 years old.
I learnt from an early age that hard work and ambition are the keys to success.
Despite not having had a proper education themselves, my parents - and particularly my mother - inspired me to study hard.
In those days most people believed that education was not important. But I was very dedicated and worked hard, and as a result my grades always came out on top.
Hard work
After graduating from high school in 1984, I studied aircraft manufacturing at university.
My academic performance was good enough that I was offered to stay on at graduate school.
But I did not want to put more financial pressure on my family, so I opted instead to start work.
I was assigned to a state-owned aircraft manufacturing company, where I made a good impression on my manager.
I was given a lot of training, and was assigned to take care of the overseas department, and was often sent on business trips - a big responsibility for a university graduate.
But although I was in a good position to move up within that company, in 1992 I chose to quit.
I did not like the structure of Chinese state-owned companies, and - more importantly - I harboured dreams of starting my own business.
Tough decision
I was not afraid of taking risks.
I had my education and believed that I was able to feed myself through hard work. I knew from my childhood that I could bear hardship well. And I didn't have much in the way of savings, so felt I had little to lose.
I was also determined to earn the money to change my family's condition and improve their way of life.
So I went to Guangdong [the southern Chinese province neighbouring Hong Kong], and began thinking of ways to start my own business from the very first day.
Initially I took jobs working for other companies, in order to gain experience.
I ended up working for a Hong Kong lighting manufacturer, with good pay and excellent job prospects.
But again I decided to leave.
It was a very tough decision for me. It led to the break-up of my marriage.
But I simply had to chase the dream I had in my heart, to build my own business. So in 1998 I set up NVC Lighting
Adventure
When we started out, my co-investors and I just managed to scrape together 1m Chinese yuan (£75,000; $120,000) between us.
After 10 years, NVC Lighting had become a very well-known brand in China with the largest market share in its industry.
I don't believe this success has come through luck, but rather through hard work and aiming high.
From our small beginnings, we set ourselves the goal of building a respected enterprise at the top of the industry.
We wanted our brand to become identified with a high quality of service, products and manufacturing expertise.
Rather than maximising our profits, we kept our prices competitive, and what profits we did make we reinvested in improving our product.
From the beginning, I was very focused on innovation.
I like to learn, research and analyse, and I have continually made changes to our business strategy, marketing model, management, and so on.
Success in business demands adventure. We cannot walk an ordinary path, the same path as everyone else, if we expect to achieve extraordinary results.
Disagreements
The results proved that some of my ideas were good, and gradually I gained support and respect from distributors, suppliers and employees.
But the other shareholders often did not understand the rationale behind my decisions - they only saw the risks, and did not support my innovations.
On two occasions there were serious disagreements.
In 2005 I resigned because my business partners at the time would not back me.
And again, just this year, I stepped down temporarily to clear my name from government enquiries into business dealings connected with the Chongqing area [Mr Wu's home province, whose Communist Party boss, Bo Xilai, was recently deposed and disgraced].
On that occasion, in certain stages, some of the other shareholders tried to stop me from returning.
But in both these cases I was able to regain control of the company because the employees, suppliers and customers made clear that they only had confidence in me.
I consider myself a typical entrepreneur for my generation in China.
Our will and indomitable spirit to do things better stems all the way from childhood. We have encountered much pain and suffering, but maintain a positive outlook.
I have always disliked laziness and those who benefit through the hard work of others, a common problem at Chinese state-owned companies.
I much prefer reward through hard work, something my mother taught me from an early stage.
In recent years I have returned to my hometown to set up several businesses there, bringing jobs and opportunities to the area, and this has made my family and friends particularly proud of my success.
The opinions expressed are those of the author and are not held by the BBC unless specifically stated.