Bank lending to hit six-year low, says Item Club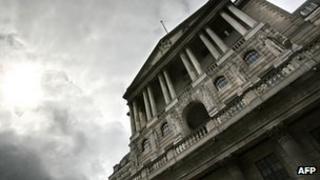 Bank lending to businesses will hit its lowest level this year since 2006, despite government efforts to stimulate lending, a report suggests.
The Ernst & Young Item Club forecasts that business lending will fall by 4.6% to £429bn in 2012 from last year, the fourth consecutive annual decline.
Banks say demand for loans is low, while many businesses argue banks are unwilling to lend.
Last month, the government suggested a business bank to boost lending.
"Government schemes to increase lending may help a lucky few but, as banks are encouraged by regulators to store up more capital and to look again at their forebearance policies and so-called bad-loan books, most small businesses are going to continue to feel the squeeze," said Carl Astorri, senior economic adviser to the Item club.
He also questioned the effectiveness of the business bank, arguing that it would simply replace loans already being made.
"We expect the business bank will have to compete for projects that are commercially viable, and so we do not think the scheme will have a tangible impact on the economy," Mr Astorri said.
In August, the Bank launched its Funding for Lending scheme to try to make loans cheaper. All the UK's major banks apart from HSBC signed up to the initiative.
This is the latest in a long line of measures the coalition and the Bank of England has introduced to try and encourage banks to lend more.
Lending 'uptick'
Separate statistics from the Bank showed that lending to individuals picked up in September.
The number of mortgages for house purchases rose to 50,024 last month, up from 47,921 in August.
The number of approvals for households remortgaging also rose, taking both levels above the monthly average of the previous six months.
"The uptick in lending seen in September is caused by a number of factors: increased loan availability, better rates as a result of the Funding for Lending scheme and increased confidence among buyers," said Mark Harris, chief executive of mortgage broker SPF Private Clients.
"Some more realistic pricing from vendors keen to shift stock that has been hanging around for a while is also helping."