Eurotunnel purchase of Sea France ferries faces inquiry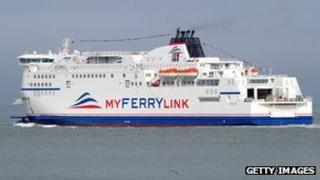 Eurotunnel's purchase of assets from the former ferry operator Sea France is to face an inquiry over worries the deal could reduce competition and raise fares for cross-Channel travellers.
The acquisition has been referred to the Competition Commission by the Office of Fair Trading (OFT).
Sea France went into liquidation in November last year, and Eurotunnel bought assets including three ships.
These ships now operate between Dover and Calais under the MyFerryLink brand.
Eurotunnel leases the ferries to MyFerryLink, which is operated primarily by former employees of Sea France.
Eurotunnel already operates the Channel rail tunnel, and runs the Le Shuttle services.
In referring the deal, the OFT noted that, prior to its liquidation, Sea France had been a "close competitor" to Eurotunnel.
"Although some competitors remain after the merger, the evidence available to the OFT indicates that only P&O will provide a strong competitive constraint to Eurotunnel for some customers."
Amelia Fletcher, OFT chief economist and decision maker in this case, said: "We are concerned that the merger could further strengthen Eurotunnel's position in the market for cross-Channel transport and prices could go up as a result.
"As such, we believe it is appropriate that the Competition Commission reviews this merger in detail to ensure that the interests of consumers and industry are protected."
Eurotunnel said that its purchase of Sea France's assets followed the decision of a French court. It also added that the French competition authority is looking into the deal and is finalising its analysis.