Singapore Airline buy 10% stake in Virgin Australia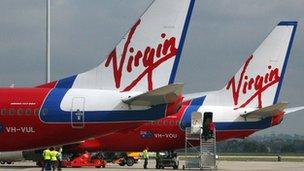 Singapore Airlines has bought a 10% stake in Virgin Australia as it looks to counter the growing strength of competitors in the region.
The A$105m ($108m; £68m) deal will also help Virgin Australia challenge Qantas, its main rival in the domestic market.
Australia and Asia Pacific are one of the few pockets of growth in the airline industry.
As a result, airlines from China, Europe and the Middle East have stepped up their coverage of the region.
Last month, Qantas announced a potential alliance with Dubai's Emirates.
"We see today's move by Singapore Airlines as a strategic shift down south to back Qantas' main domestic competitor," said City Index analyst Peter Esho.
Virgin, which already has Abu Dhabi's flag carrier Etihad as a minority stake holder, also announced a number of other local deals on Tuesday.
It agreed to acquire 60% of Singapore Airlines' struggling Australian budget carrier, Tiger Airways, for A$25m.
Virgin and Tiger will jointly spend another A$52.5m to increase Tiger's fleet, if regulators give their approval.
Virgin also said it would takeover regional airline Skywest, which operates in Australia and South East Asia, for A$99m.
"The transactions announced today are in line with Virgin Australia's strategy to become the airline of choice in all markets, in order to diversify our earnings and drive growth opportunities for the business," said Virgin Australia Chief Executive Officer John Borghetti.
Analysts said this would make Virgin a viable competitor to Qantas domestically.
"The transactions overall represent a monumental shift for Virgin Australia which, if approved, will see a more even playing field in Australian aviation," Macquarie analysts said in a note.
Related Internet Links
The BBC is not responsible for the content of external sites.