Baidu in 60% income rise as advertising revenues surge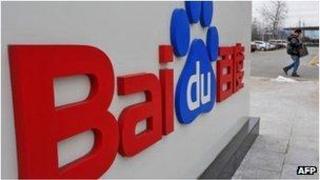 Baidu, China's biggest search engine, has reported a 60% rise in quarterly net income to 3.01bn yuan ($478m; £299m) compared to last year.
Baidu said its income jumped in the three months ending 30 September, as the company continued to attract increasing amounts of advertising.
The company said revenue from online marketing surged nearly 50%.
Baidu has about 80% of the Chinese search market. Google exited China in 2010 over a censorship row.
Analysts said there could be challenges on the horizon, however, as Baidu's fourth quarter revenue projection came in below expectations.
Baidu, which is listed in New York, said Monday revenue in the October to December period will range from 6.16-6.35bn yuan. Economists had estimated about 6.14bn yuan for that period.
Mobile growth
Baidu itself acknowledged that it must manage its future mobile strategy as more users shift from personal computers to mobile devices including smartphones and tablets.
The revenue generated from mobile search is far less than from PCs at the moment.
In October, Credit Suisse downgraded the company's outlook over concerns about how it would make money from its mobile search traffic.
On Tuesday, Baidu chief executive, Robin Li, said the firms mobile search traffic was growing at triple digit rates.
"We are working hard to improve the monetisation system for mobile and to educate our customers to take full advantage of mobile," Mr Li told analysts on a conference call after the earnings announcement.
"But we expect it would take some time to close the gap," he added.
Baidu also faces increased competition. In August this year Qihoo 360 Technology, an anti-virus software company, launched a competing search engine.
Baidu shares are not trading because of a hurricane on the US East Coast which has led to the temporary closure of the New York Stock Exchange.