Branston sold by Premier Foods to Japan's Mizkan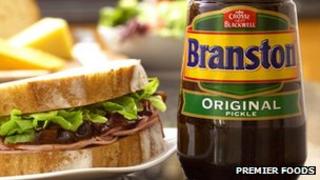 Premier Foods has agreed to sell its Branston range of pickles and sauces to Japanese company Mizkan for £92.5m.
As well as the Branston products, the sale also includes the firm's factory at Bury St Edmunds in Suffolk.
The deal is set to be completed in 2013, when workers at the plant are expected to become Mizkan employees.
Premier Foods has been selling off a number of what it considers non-core brands, including Sarson's vinegar and Robertson's jam.
It had run up debts of more than £1bn in recent years, and in March it secured more time from its banks to pay back its loans.
The firm has said it will concentrate on eight key brands, which include Oxo and Bisto.
Shares in Premier Foods rose 7.4% to 108 pence on Tuesday.
'Ahead of target'
Premier Foods said its latest sale meant it had raised about £370m in sales since March this year, beating the £330m target it had set out to achieve by June 2014.
In June, it sold its Sarson's and Dufrais vinegars and Haywards pickles for £41m, also to Mizkan.
In August, it agreed the sale of its sweet spreads and jellies unit, which included the Robertson's, Hartley's and Sun-Pat brands, to the Hain Celestial Group for £200m.
"I'm delighted to have exceeded our disposal target 20 months early while at the same time delivering three successive quarters of sales growth and taking £40m of overhead costs out of the business this year," said Premier Foods chief executive Michael Clarke.
Mizkan is a 200-year-old food producer which started in 1804 making sake and now specialises in making vinegar.
It was ordered to sell its factory near Lichfield in Staffordshire by competition authorities following its purchase of Sarson's and Haywards.
Its chief executive Kazuhide Matazaemon Nakano said: "Branston Sweet Pickle is an iconic brand that has established a market leading position. The Branston brand is also an excellent strategic fit with our global portfolio and adds to our solid foundation for growth in the UK."