RBS and NatWest cut back on paper account statements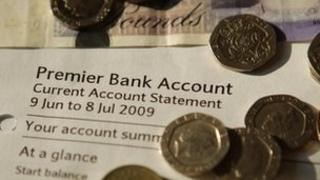 RBS and NatWest current account customers will no longer receive monthly paper bank account statements, unless they opt back into the system.
The banking group has been writing to customers to inform them that statements will only be sent in the post every three months.
Those who want letters delivered will need to contact the bank.
The policy marks the latest element in the shift towards information being provided online.
Most major banks still provide monthly paper statements, but there have been changes for some new account holders and students.
'Not compulsory'
In one of the most significant shifts in the move from mail correspondence to online, the RBS Group has been writing to seven million customers informing them of the shift to quarterly statements.
A spokesman for the group said this was in response to customer feedback and requests. There will also be a cost-saving element to the move.
"The change is not compulsory and we will continue to send monthly statements to customers who ask us to," the banking group said.
"They can request that by going into their nearest branch, calling us, or completing an online form. For our customers who go on to receive quarterly statements, they can easily keep track of their money by requesting free mobile text and email alerts.
"A list of account transactions covering up to the last seven years is also available at anytime by going online or calling into a branch."
Letters will be sent to customers of Ulster Bank, part of the RBS Group, from January that explains the change.
Restrictions elsewhere
Some other High Street banks have also cut back on delivery of paper statements.
Anyone opening a Barclays current account will be asked whether they want statements provided online or through the post, although the internet option is the default position.
A survey for Barclays, published earlier this week, claimed that a third of those who received paper statements did not open them, partly because they did not want to be reminded of the state of their finances.
Those who have a basic bank account - a no-frills account often used by those with a chequered credit history - or a student account with Lloyds Banking Group receive paper statements at least once every three months.
However, regular current account holders at the banking group, as well as HSBC customers, receive paper statements every month.