Hi-tech toys tipped for Christmas success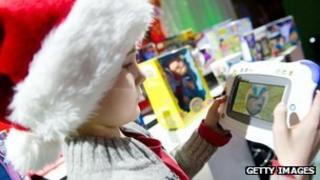 Technological advances have again influenced the toy industry's top picks for success this Christmas.
A hand-held tablet computer for youngsters and a dance mat that can be connected to a digital music player are among those tipped for success.
They appear in the Toy Retailers Association annual Dream Toys parade.
While some battery-free toys have been highlighted, a separate campaign has offered an alternative list for traditional toys.
'Extra dimension'
The cheapest toy on the Dream Toys list is a Barbie for older children called Monster High Ghouls Rule Dolls, which has a recommended price of £22.99.
The most expensive is the LeapPad 2 - a child-friendly tablet computer - which has a recommended price of £89.99.
"We continue to see technology being woven into toys to add extra dimensions to the play experience - whether this is the use of apps, interactivity, touch screens or integrated multi-functions such as e-readers and cameras," said Gary Grant, chairman of the Dream Toys selection panel.
The list also includes Nerf guns, that fire foam darts, toys with links to films such as the Web Shooting Spiderman, and new versions of older toys such as the Cabbage Patch Kids doll.
The majority of the toys in the top 13 picks require batteries or need to be charged up.
But Alan Simpson, chairman of the Toy Retailers Association, admitted that some parents would be more confident choosing some traditional, or collectable, toys for their children.
Two sets of Lego have made it onto the list - the Lego Friends set and the Lord of the Rings set.
"Parents feel safe buying Lego, because they played with it themselves," he said.
Some of the computerised games would be operated quicker by young children than their parents, he added.
'Toys that last'
Some toy distributors argue that toys that require more imagination and creativity from children actually hold their attention for longer.
"If a toy has got flashing lights and bells and whistles, children run up to it and play with it for five minutes," said Jamie Dickinson, marketing manager for Playmobil, which is promoting a toy pirate ship for Christmas.
"But it is often the other toys that they go back to."
Such "slow toys" have inspired one toy distributor to set up an alternative toy Christmas list, for products which he argues "inspire the imagination and engage the mind".
"In my eyes, a Slow Toy is one that you would find in your loft 20 years down the line and have fond memories," said Thierry Bourret, founder of the Slow Toy Awards and Managing Director of Asobi toys.
"These are in stark contrast to toys with thousands of functions and flashing lights that simply distract."
The toys on his list, which are on display at Selfridges, include Rory's Story Cubes - a set of nine dice with pictures that require the player to make up a story from the images - and a stacking hoops game that has different materials for each hoop.
Concerns have also been raised about the price that parents pay for some hi-tech toys at a time when family finances are squeezed.
And a survey for drinks business Ribena Plus claimed that a third of parents asked found their children were happiest playing make-believe games with basic props such as cardboard boxes, compared with a fifth who preferred the latest electronic gadgets.