Panasonic shares slide 19% as it projects annual loss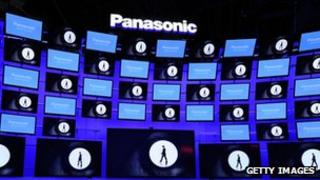 Shares of Japan's Panasonic have dropped as investors worried about the firm's long-term future and its ability to turn around its business.
Its shares fell as much as 19% to 416 yen in Tokyo.
On Wednesday, the firm forecast a net loss of 765bn yen ($9.6bn; £5.9bn) for the financial year to 31 March 2013.
It also said that costs related to restructuring its business were expected to be almost 11 times greater than previously thought.
The electronics giant had earlier projected a profit of 50bn yen for the current financial year.
Further losses?
Japanese electronics makers, especially TV manufacturers, have been hurt by a variety of factors in recent times.
To begin with, a slowdown in key markets such as the US, eurozone and China has hurt demand.
To make matters more difficult, competition in the sector has increased, and that coupled with falling demand has seen firms cut prices, putting pressure on their profit margins.
A strong Japanese currency has only added to their woes, making their products more expensive to foreign buyers and further hurting profits.
The yen has risen more than 6% against the US dollar since April 2011, despite efforts by Japanese authorities to weaken it.
Analysts said that given these factors, and the increase in restructuring costs, investors were worried that it may take a long time for the company to turn around its fortunes.
"It's highly possible that Panasonic will cut its outlook again later," said Mitsushige Akino, chief fund manager at Ichiyoshi Investment. "It's very difficult for them to judge how much restructuring will cost at this point."