South Korea seeks global appeal for cuisine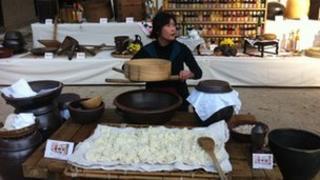 South Korea is a nation of exporters. That goes for its varied cultural products just as much as for its flat-screen TVs or computer chips.
Over the past few years South Korea has had growing success in exporting its pop music, Gangnam-style, as well as films and TV dramas to audiences abroad.
But one cultural product that's yet to find its place in the international market is food.
Korean cuisine is unique - quite unlike the cooking of either of its giant neighbours, China or Japan, both of which are now staples of the western food scene - and the South Korean government is keen to do more to promote it.
This week, seven top international chefs are visiting Seoul as part of the city's fourth annual Gourmet Week - a food festival designed to introduce the world's best chefs to Korean flavours.
Among this year's visitors are Germany's Thomas Bühner with his three Michelin stars, and top Brazilian chef, Alex Atala, who uses ingredients and techniques from the Amazon rainforest.
'A new world'
The appeal of Korea as a food destination, says Alex Atala, is exactly because it is largely undiscovered.
"It's a new world," he tells me, "there's lots of mystery around it. The balance of texture, flavour, aroma, acidity - it's very impressive".
"At my first dinner here, I realised that I knew nothing about Korean food."
Given the international popularity of other kinds of Asian cuisine - such as Thai, Vietnamese and Japanese - it's perhaps surprising that Korea has lagged behind.
"We were busy," says food festival organiser Samuel Koo. "For a long time, we were selling all kinds of other things."
South Korea's rapid economic rise is often given as the reason for its low profile on the international stage - at least, until now.
But with a growing presence - in global politics, peace-keeping, and the climate change debate, the past decade has seen a new focus on promoting Korean arts and culture overseas.
No orthodox path
The government has already tried to market some of its simpler dishes to an international audience, such as Bibimbap - mixed rice and vegetables with red-pepper paste.
And some traditional dishes are already very popular with foreigners here - chiefly the traditional Korean barbecue, in which steak or pork is cooked over charcoal or hot stones at your table.
But some of the stronger, more complex flavours in Korean cooking, such as fermented raw fish or the ubiquitous fermented bean-paste, are seen as difficult for the western palate to fully appreciate.
And the festival is pulling no punches when it comes to initiating its visiting chefs.
Some of the intense flavours on display this week are pickles marinated for decades; prawns dipped in ground fish eggs; and of course the Korean national dish, kimchi, a fiery fermented cabbage.
But festival organiser Samuel Koo says "there's no one orthodox path" when it comes to introducing unique cuisines to the world.
"Some will want to experience it wholesale but Korean flavours could also be used as accents in other kinds of cooking."
Good marketing can also go a long way, he says.
Witness the way in which westerners' horror of raw fish has been replaced by a surge in sushi and sashimi restaurants in western capitals, he points out.
And anyway, he told me, it's no different for a Korean trying some kinds of European food for the first time: "When I first encountered Roquefort cheese, my first reaction was, what on earth is this?"