Four global banks told to hold extra capital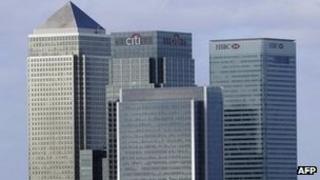 Citigroup, Deutsche Bank, HSBC and JPMorgan Chase have been told by global regulators that they need to hold more extra capital than their rivals.
The four will need to hold 2.5% of common equity as a percentage of assets, on top of the new 7% buffer generally recommended.
The advice comes from the Financial Stability Board (FSB), a Group of 20 (G20) developed nations' task force.
It said recent scandals showed risks were not being covered properly.
The instruction from the FSB comes as G20 finance ministers prepare to meet in Mexico over the weekend to consider what else needs to be done to protect taxpayers against banking excesses.
The four names are on a list of 28 banks deemed so large and complex they need a bigger buffer than smaller, less globally important banks.
Barclays and BNP Paribas were told to have the next highest level of buffer at 2%, with eight others told to hold 1.5% above the minimum.
The FSB's latest list no longer includes three institutions, including Lloyds, Commerzbank and Dexia because the range of their activities has been reducing in scope and size.
Holding back reserves leaves less money for lending, but also means less money is put at risk.
A release of credit on a massive scale was the key reason for the international credit crisis five years ago, which took billions of dollars of government money to alleviate.
The FSB's requirements will come into effect in 2016 and will be revised twice more before then.
Large banks are building capital to meet new requirements known as "Basel III".