Japan Airlines raises profits forecast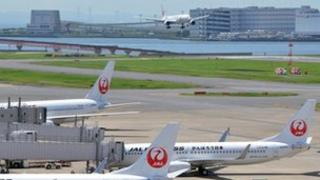 Japan Airlines (JAL) has raised its forecast for full-year profits from 130bn yen ($1.7bn; £1.1bn) to 140bn yen after releasing six-month results.
Net profit for the half year to the end of September came in at 99.7bn yen, up 2.3% from the same period last year.
JAL relisted on the Tokyo Stock Exchange in September, having filed for bankruptcy in January 2010 in one of Japan's worst corporate failures.
The raised profit forecast came despite cancelled flights on Chinese routes.
JAL and rival All Nippon Airways both cancelled thousands of flights following protests after Tokyo claimed a group of islands in the East China Sea.
"Despite flight cancellations and a decline in passenger traffic on JAL's China routes from late-September, traffic demand to Europe and South East Asia on the other hand was high," the airline said in its statement.
JAL's share offering was the world's second biggest this year after Facebook.