Anglogold Ashanti strikers return to work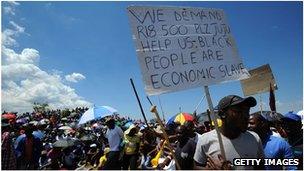 Striking miners at two South African Anglogold Ashanti pits have agreed to return to work as tensions across the country's mineral sector ease.
Hundreds of miners have been holding underground sit-ins this week at the Anglogold Ashanti site at TauTona and Mponeng 40 miles west of Johannesburg.
The strikers demanded early payment of a bonus, an Anglogold spokesman said.
South Africa's mining industry has been wracked since the summer by widespread strikes and sporadic violence.
"In both these cases these people, who represent less than 2% and 5% of the respective workforces, returned safely to surface after holding talks with the mines' management," said Anglogold Ashanti in a statement.
Employees had been promised a 1,500-rand ($173, £108) bonus, a company spokesman said, but this would only be paid out "at a later stage, based on safety and attendance outcomes".
Work at the mines, which employ 10,000 people, is expected to resume with the night shift on Sunday.
A series of strikes across the mining industry has crippled output and had a major effect on the economy since August.
Many other mining companies besides Anglogold have been affected by the industrial unrest, in which over 80,000 workers have downed tools.
Striking workers have been involved in several fatal clashes.
In the worst incident, more than 40 people died in August in clashes between police and striking workers at Lonmin's Marikana platinum mine near Rustenburg, 120km (70 miles) north-west of Johannesburg.
Miners have primarily been demanding higher wages, while the owners have variously responded with offers of conditional bonus payments, or mass dismissals.
Anglo American Platinum has sacked and subsequently reinstated 12,000 workers at its site in Rustenburg, but the miners have so far refused to return to work.
One mine belonging to Gold Fields remains shut after 8,500 workers were fired for striking, while on Thursday Xstrata sacked 400 workers for an illegal strike at its Kroondal chrome mine.
South Africa is one of the world's biggest producers of precious metals and has a huge coal-mining industry.
Also on Friday, striking coal miners at the Mooiplaats mine returned to work.
The colliery's owner, Coal of Africa, has agreed to increase their wages by 26% retroactively from July this year, including medical care and allowances for housing, shift and underground work.
Related Internet Links
The BBC is not responsible for the content of external sites.