Chevron profits fall on lower oil prices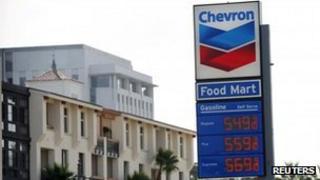 US oil giant Chevron has reported a drop in profits due to lower oil prices and falling production.
Net profit for the three months to the end of September was $5.3bn (£3.3bn), down a third on the $7.8m the company made a year earlier. Revenue fell to $55.7bn from $61.3bn.
The results were worse than analysts had expected and Chevron shares closed down 2.8% in New York trading.
Other US oil giants have also reported a drop in third-quarter profits.
Earlier this week, Exxon Mobil reported a 7% fall in net profit to $9.57bn after a big drop in exploration and production earnings.
Falling prices
Chevron boss John Watson said: "This quarter's earnings were solid, but off from their near record level of a year ago".
"Crude oil prices were down and we had a heavy period of planned oil field maintenance which temporarily reduced oil and gas production in several locations. Foreign currency movements also hurt our results this quarter, while they benefited the year-ago period."
The company said the average price per barrel at which it sold oil and liquid natural gas in the US during the quarter was $91, down from $97 a year ago. The average price of natural gas per thousand cubic feet was $2.63, down from $4.14.
Oil production was also down 4%, due in part to asset sales and storm-related disruptions in the Gulf of Mexico.