What it takes to be a chief executive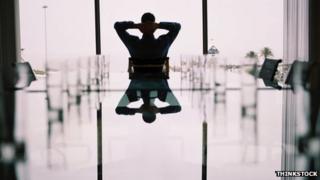 Until recent years, if you were a top chief executive - or CEO - you might have felt that you had the best job in the world.
The benefits were many - power, respect, an enormous pay packet, freedom to operate, all of the positive aspects that generally go with being the boss - including not really having a boss of your own, at least in the conventional sense.
Fast forward to the present, and the situation is perhaps not so rosy. Corporate bosses are under attack. The Occupy movement is just one manifestation of popular discontent with those running large corporations. Media coverage of the levels of executive pay is far more extensive than it was before the global financial crisis.
There has even been the phenomenon of the so-called "shareholder spring", where some institutional investors have voted against the executive remuneration packages proposed by company boards.
According to Steve Tappin, who coaches many high-profile business leaders, the modern chief executive is a figure under pressure.
High pay may offer a great deal of comfort, and the opportunity to escape to a cosy retirement if it all gets too much. But the rewards come at a price, and whilst in the job there is still the need to deliver.
Mr Tappin says that there's a feeling among some of the executives he works with that there is a need to re-examine the role of the chief executive and how to approach it.
Work life balance
Stress can take a devastating toll. Joe Plumeri is chief executive of Willis, one of the world's largest insurance brokers. He says he is haunted by the loss of his son, who passed away because of problems with drugs.
Mr Plumeri warns senior executives that they should take care to achieve balance between the demands of work and family life. A lack of harmony between the two may cause both to suffer.
Mr Tappin says that some CEOs fall into the trap of taking on too heavy a workload. They should try to avoid becoming a "limiting hub at the centre of the business" he says.
"Instead, they should build a trusted fellowship and empower those around them to take shared responsibility."
But there are occasions when it can be difficult to get real help from others, partly because of an implicit expectation that the chief executive is the ultimate decision maker.
Mr Plumeri says there's some truth in the saying that "success has many fathers and failure is an orphan".
The CEO's job can often be "lonely because even though you take solace in the input that you can get from… colleagues, at the end of the day you know that you make the decision".
Decision-making
Getting the balance right between collective and individual decision-making is vital, according to Brent Hoberman, co-founder of internet travel and retail firm lastminute.com.
He sees "consensus management" as one of the great ills of the business world. He says he is wary when he sees "corporate politicians" around the boardroom table.
"The easy decisions to make are the ones where you cut costs. The difficult ones are driving innovation and being prepared to fail in that," says Mr Hoberman.
He adds: "The reward cultures are often wrong. We often don't reward people enough internally for making [innovative] bets, because they might go wrong and… you might lose your job, whereas shaving another 5% off costs, that's pretty easy.
"And even if it's the wrong thing long-term because it slows growth down in three years time, it doesn't matter, nobody knows it was your fault for pulling that trigger."
Long-term thinking
The need to think deeply about a whole range of issues is a common theme for business leaders.
In the mid-1980s, Liu Chuanzhi, along with several colleagues, founded what was to become the Chinese conglomerate Legend Holdings. The group includes Lenovo, the giant computer manufacturer which acquired IBM's PC division in 2005.
Mr Liu recalls that in his youth, the educational system of the time encouraged people of his generation to be "the 'docile instruments' of the Communist Party". Mr Liu says he has always liked to think differently.
Although he ended up studying science at university, he says that from an early age he also read history, literature and philosophy, and developed a habit of thinking and meditating about a wide range of topics.
This approach has stayed with him. Every 10 or 15 days, he says, he likes to retreat to somewhere, such as a park, where he can be on his own. He then spends time considering recent decisions, and planning for both the near and distant future.
His ambition is for Lenovo to become one of the top dozen companies in the world, a goal he concedes that may have to be accomplished by his successors.
Other Chinese CEOs also look far ahead. Xia Hua is the founder of the fashion company Eve, which has a large menswear operation. She says that it is important to remember that "a customer's heart is close to his wallet".
Because the consumer market is so large in China, new customers will be encountered every day. If someone makes only one purchase and does not return, Ms Xia says she refers to this metaphorically as a "one night stand".
She says the "most important thing is to create a brand that isn't about that random encounter". Instead, she wants the business to have a "life-time" relationship with its customers, based on mutual attraction and understanding.
Eileen Gittins, founder and CEO of online publishing company Blurb, thinks Western executives could learn a lot from some of their Asian counterparts. "They dream big, they take bigger bets, they have a longer-term view and I wish for us that we could somehow meld some of the great things about entrepreneurial culture into larger corporations and find a better balance between those two things."
Mr Tappin agrees that it's time for some fresh thinking about the role of the CEO. Many modern chief executive, he says, are "overly scripted". "They lack authenticity," he says.
The best leaders think hard about what needs to be done and "are able to create a shared dream for the business that captures and lifts the hearts of everyone". But many find that is easier said than done.