Marks and Spencer reports 9.7% fall in profits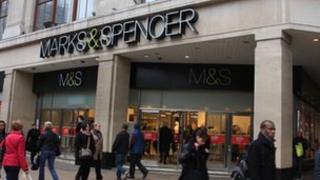 Marks and Spencer, the UK's biggest clothing retailer, has posted pre-tax profits of £290m for the six months to the end of September, down 9.7% from the same period last year.
Group sales were up 0.9% to £4.7bn, with much of the growth coming from the food side of the business.
Food sales were up 3.4%, or 1.1% on a like-for-like basis, which strips out the effect of new stores.
Clothing and homeware like-for-like sales, were down 4.3%, M&S said.
"Clothing, and especially womenswear, remains the laggard of the M&S business," said retail analyst Neil Saunders.
"While there has been an undeniable improvement in trading from the first to the second quarter, M&S's numbers are still painfully weak and continue to demonstrate a loss of market share," he said.
Chief executive Marc Bolland pointed out that food had outperformed the rest of the market.
He also said the company's performance was better in the second quarter than the first, when it made the mistake of not stocking enough of its most popular items, holding back sales.
"We took steps to address the short term merchandising issues in General Merchandise [clothing and homeware] and as a result, we delivered an improved performance," Mr Bolland said.
Indications of a turnaround helped the retailer's shares rise 2% in early trading to 395 pence.
No Olympic bounce
M&S said that the market had been challenging due to the bad weather, weak consumer confidence and pressure on customers' disposable incomes.
And the summer's major events had little or no effect on sales, M&S said.
"While the Jubilee and the Olympics improved the nation's mood, they did not translate into higher sales."
International sales were up 3.6% on a constant currency basis, with strong growth in China and India.
While the group had benefited from improved High Street trading conditions and revamped stores, Mr Saunders, from consultancy Conlumino, warned that "it remains too early to call whether M&S is back on the path to sustainable growth."
M&S' clothing performance contrasted sharply with that of discount fashion chain Primark, which saw like-for-like sales rise 3% and revenues rise 15% for the year to 15 September.
Management shake-up
On Monday, Mr Bolland announced further management changes, with Frances Russell, a former director of Philip Green's Arcadia, moving up to director of womenswear, replacing Annette Browne, who has left the company.
Janie Schaffer, currently chief creative officer at Victoria's Secret, will succeed Frances Russell as director of lingerie and beauty early next year.
The latest shake-up follows the appointment of John Dixon in October, who moved from food to become the head of general merchandise, replacing Kate Bostock.
In May, M&S reported its first fall in annual profits for three years, with pre-tax profits for the year to the end of March down 16% to £658m.