Ferran Adria: Bullipedia takes chef from bites to bytes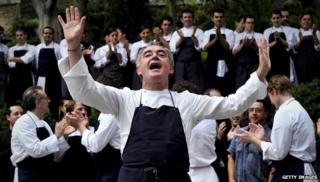 Twenty-eight years ago I joined the kitchen of El Bulli, a business later lauded as the world's best restaurant.
On 30 July last year, we closed that restaurant down forever - arguably at the height of its success.
To many people, this may seem like a strange decision, but for me it was the next logical step in the evolution of our understanding of cuisine.
Gastronomy, for me, is not only about cooking techniques or ingredients - it is about innovation. Like music, business or art, there can be no process in cuisine without an idea.
It needs a concept, an idea which is then supported and nourished by technique. Innovation is a critical catalyst for this process.
At El Bulli, innovation was our lifeblood.
My team created 1,864 dishes over almost a quarter of a century, constantly experimenting, changing and adapting our food. I believe this is why so many people wanted to taste our food - because every dish was special, and every dish was unique.
In the end, we decided to close the restaurant to concentrate our efforts solely on research and development.
Innovation will still sit at the heart of everything we do, but it will now be complemented by one of the most powerful and exciting forces this planet has ever seen - digital technology.
Cuisine under the microscope
The internet has arguably been the greatest democratising factor in the history of cuisine.
Never before has so much information about food been available to so many people so easily. The gastronomic world has been opened up to a new generation of chefs who can connect in previously inconceivable ways.
It is my belief that harnessing technology is the only way that cuisine will continue to evolve. That is why I launched the El Bulli Foundation, a centre of innovation allied with digital technology that has its roots in creativity and learning.
I want the foundation to become a centre of innovation, allying chefs with digital technology and placing haute cuisine under the microscope like never before. The venture is founded on the research and data accrued from El Bulli, and forms the basis for what I hope will one day become the definitive gastronomic resource.
At the centre of this is La Bullipedia.
The internet on its own is limited because information can be found without the need to actually acquire knowledge. We want people to acquire knowledge through the navigation of information.
La Bullipedia will be an online, curated database that will one day contain every piece of gastronomic knowledge. More than that though, it will connect cooks and chefs with ideas and data that would have previously taken them years to discover.
We are taking fundamental aspects of digital technology such as algorithms and data and applying it to food. We are putting the combined knowledge of El Bulli online where people can adapt and modify it, and draw inspiration from some of the most innovative recipes ever created.
Cooking as a language
Cooking shares many characteristics with the internet - both are the sum of many parts and both enjoy the rare gift of limitless potential. Digital technology, when combined with innovation, plays a key role to unlocking this potential.
I firmly believe that as a chef if you only speak to other cooks you'll get bored. Bullipedia uses cooking as a language and eventually it'll connect with other disciplines such as design and architecture.
Innovation is bred through collaboration and creative auditing. Very few organisations today track the developments and inventions from their creative teams. Technology can help capture the valuable information generated from the development process, and preserve it for future use and analysis.
Technology is now helping to provide future generations of creatives with the tools that they need to be innovative. It is acting as an enabler, connector and collaborator. I believe that it will now sit at the heart of gastronomy and be a fundamental driver of innovation in the industry.
We have journeyed part of the way to discovering the genome of cuisine. Digital technology will allow us to take the final step.
Ferran Adria is regarded as one of the most gifted chefs in the world. His restaurant El Bulli topped an influential poll of the world's best restaurants a record five times. La Bullipedia, which has been backed by Telefonica Digital, is due to go live in 2015.