Comet gift vouchers reinstated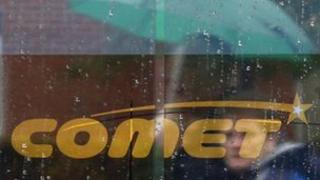 The administrators of the electrical retailer Comet have said gift vouchers bought by members of the public can once again be used at stores, two days after suspending them.
But vouchers issued on behalf of corporate customers will remain suspended, Deloitte said.
Comet was forced to call in the administrators last Friday after its owners failed to turn the struggling business round.
Shops remain open as usual.
'Paid in full'
Deloitte said it was "necessary to temporarily suspend the acceptance of gift cards as a means for payment in order to allow the joint administrators time to assess the financial position of the company and collate information about the quantity, value and nature of gift cards in circulation.
"Having now had the opportunity to do so, we are very pleased to inform Comet customers that the company will be able to accept gift cards which have been purchased and paid for in full by members of the public."
It added that gift cards issued by the charity Family Fund, one of which was rejected by a Comet store in Plymouth last week, would also be honoured.
The company also said it needed more time to establish whether vouchers issued by corporate customers had been fully paid for.
The electricals retailer has been been hit by the drop in consumer spending during the economic downturn, which has been particularly acute in the case of the big items that Comet sells.