BNP Paribas sees profits more than double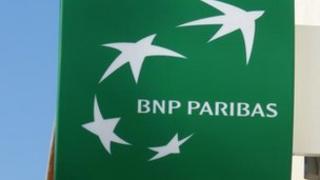 France's largest bank BNP Paribas has posted a big rise in quarterly profit, led by its investment banking arm.
The bank's net profit rose to 1.3bn euros ($1.7bn; £1bn) for the July to September period, compared with 541m euros a year earlier, when it was hit by a big loss on its Greek investments.
Its revenues totalled 9.7bn euros, down 3% from 10bn euros a year earlier.
BNP Paribas said profits at its investment division rose by 7%.
The bank said that despite a "difficult environment" for the banking sector, it had increased the level of funds it keeps in reserve. This is so it can meet forthcoming global standards designed to make banks better able to withstand any future financial crises.