China imposes tariffs on EU and Japanese steel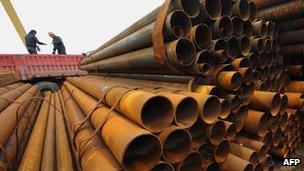 China has said it will impose anti-dumping tariffs on imports of stainless steel tubes from the European Union (EU) and Japan.
The duties, ranging from 9.2% to 14.4%, will be implement from Friday, China's ministry of commerce said.
Dumping refers to a process where firms allegedly sell goods at prices below fair market value.
China had previously imposed tariffs on some US steel alleging that its makers were given state subsidies.
However, the World Trade Organization (WTO) ruled against the tariffs saying that China had failed to prove its charges.
China and the EU are also involved in a dispute over alleged dumping of solar panels by Chinese firms in the EU.
On Thursday, the EU launched an investigation into subsidies given to Chinese solar panel makers.
Manufacturers in the EU have alleged that such subsidies have helped Chinese firms flood the region's markets with cheaper goods and have hurt their growth.
China has faced similar allegations from the US.
Earlier this week, the US International Trade Commission upheld the higher tariffs that were announced last month on imports of solar cells from China.