Iberia to cut 4,500 jobs under IAG restructuring plan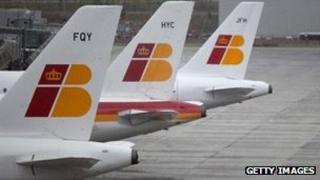 British Airways-owner IAG has announced 4,500 job cuts at Iberia as part of a widely anticipated restructuring of the Spanish carrier.
Iberia is cutting its 156-strong fleet by 25 aircraft, and reducing 15% of its network capacity, with the airline focusing on the most profitable routes.
The plan aims to stem Iberia's cash losses by mid-2013, and raise profits by at least 600m euros ($766m; £479m).
IAG also revealed a 30% drop in pre-tax quarterly profits to 221m euros.
The drop was due to the poor performance at Iberia and at the recently-purchased UK regional airline BMI, as well as rising fuel, operating and engineering costs.
"The group performance is coming back to the levels seen in 2011 and this is particularly true if you strip out the BMI losses of 31m euros in the quarter," said IAG chief executive Willie Walsh.
"However, there remains a strong difference between the performances of British Airways and Iberia."
The parent company said it now expected to make an overall operating loss of 120m euros for the year - excluding any costs associated with the Iberia restructuring - with further losses likely in the remaining three months due to the impact of storm Sandy in the US.
Its pre-tax losses for the first nine months of the year have now reached 169m euros, compared with a 355m-euro profit in the same period last year.
'Bleak' future
Iberia has been suffering record losses, and IAG flagged up three months ago that job cuts were likely to come.
"Iberia is in a fight for survival," said the Spanish subsidiary's chief executive, Rafael Sanchez-Lozano. "It is unprofitable in all its markets.
"Unless we take radical action to introduce permanent structural change, the future for the airline is bleak."
The 4,500 job losses are not as steep as the 7,000 figure that reportedly had been expected by the airline's unions.
IAG said the restructuring would safeguard 15,500 posts at the airline.
However, the restructuring plan also includes "permanent salary adjustments to achieve a competitive and flexible cost base".
The airline has set a deadline of 31 January next year to reach agreement with unions over the cuts.
"Time is not on our side," said Mr Sanchez-Lozano, claiming that: "The company is burning 1.7m euros every day.
"If we do not reach consensus, we will have to take more radical action, which will lead to greater reductions in capacity and jobs."
The restructuring plan comes a day after IAG announced that it would pay 113m euros to buy up the remaining 54% stake in Spanish budget airline Vueling that it did not already own.
Mr Walsh had said that the acquisition of Vueling would be "good for Spain" and "create new Spanish jobs".
'Playing hard ball'
On Wednesday, IAG released its latest passenger figures for October, which showed that traffic rose by 6.2% at British Airways from a year earlier, while at Iberia traffic was down 3.7%.
The airline's woes in part stem from the weakness of the eurozone economy, including a sharp downturn in its Spanish home market. However, according to Mr Sanchez-Lozano, the airline's problems are also "systemic and pre-date the country's problems".
The cost of the restructuring will be borne by Iberia itself, IAG said, and by implication will not be subsidised by the more profitable British Airways.
"IAG and Iberia are now playing hardball with Spanish unions," said Keith Bowman, equity analyst at Hargreaves Lansdown Stockbrokers.
"As a global industry, airlines and governments are unable to duck the issue of labour competitiveness."
Iberia's loss contrasts with the success of budget airline Ryanair, which raised its full-year profit forecast earlier in the week by 20%.
"Consumer demand for low-priced fares continues to apply pressure across the industry, with flexible labour laws now lying at the heart of the issue," added Mr Bowman.