Credit Agricole reports more losses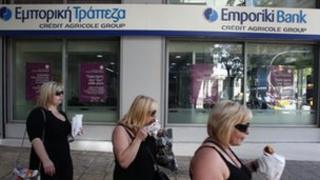 Credit Agricole has reported a third quarter loss, mainly due to the cost of selling its Greek operation Emporiki.
The French bank unveiled losses of 2.85bn euros ($3.63bn; £2.27bn) for the July to September period.
Credit Agricole said that the disposal of Emporiki to Alpha Bank would cost it 1.959bn euros.
The bank was also forced to write down the value of its stake in the Spanish financial group Bankinter, which it plans to sell.
However, Credit Agricole says the offers it has received for Bankinter have been disappointing.
"There are a lot of people who came to see us," said Chief Financial Officer Bernard Delpit, "we didn't accept them because the prices offered weren't interesting."
The bank has also taken a hit of 181m euros on the cost of disposing of its broking arm Cheuvreux, which it plans to sell to the broker Kepler.
'Weak' results
The Credit Agricole banking group has its roots in a collection of regional banks and savings institutions in rural areas.
The group has a complex structure and although its regional savings banks turned in a profit of 853m euros in the quarter the overall group returned a loss of 2.2bn euros.
"The results are quite disappointing," said Yves Marcais, a trader at Global Equities. "You have to look at the numbers stripping out all the exceptional items to analyse them properly, but even then they look weak."
Investors are growing concerned about its efforts to shore up its reserves, to abide by the banking industry's new Basel III rules.
Credit Agricole told investors that it had more than achieved its targets under a programme to adapt to conditions since the financial crisis.