Self-built homes: Your stories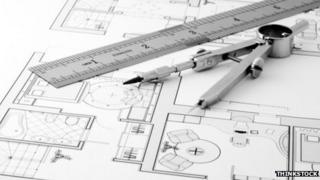 Only one in 10 new homes in the UK are built by their owners, compared with six in 10 in France and Germany.
The Housing Minister, Mark Prisk, recently told mortgage lenders that self-built homes should be encouraged.
He said that the idea of a DIY home should no longer be a "pie in the sky dream" for families.
Lenders and house builders were sceptical that this could help to solve some of the UK's housing shortage.
But what about those who want to build their own homes?
The BBC News website spoke to two people who had faced similar hurdles, but only one of whom had managed to clear the barriers.
'Arranged, with difficulty'
Simon Wells suggests that securing a self-build mortgage is a "minefield". Yet, despite the difficulties, he is now preparing to start his DIY home project in December.
The 47-year-old business development manager argues that UK lenders are not geared up to deal with self-build applications.
"There is lack of knowledge inside the industry about these mortgages," he says.
This led to a process that was "a combination of frustration and annoyance".
Mr Wells's wife, Angela, is American, where 45% of new homes are self-built. He says that in the US it is easy to select a blueprint of a home and then ask a builder to make changes.
"Clearly in the US it is very different," he says.
The borrowing process is also easy in the US, he says. However, in the UK, he says he needed to provide the funding to buy the land and start the work on his five-bedroom detached barn conversion just outside Peterborough.
He says that many mortgage lenders were quoting a mortgage that was two percentage points higher than the level he was paying for his previous mortgage.
However, after a considerable amount of shopping around on the internet, he was able to find a deal that was similar to the rate he was paying for his "regular" home.
As his family prepare to move to a caravan on the site, he hopes the project will be completed by August, and the difficulty in getting started will be worth it.
'Tried, but failed'
Chris Berridge lives in one of the most sought after areas of the UK. When he had a young family about 10 years ago, he decided that building his own house would be the best way to move into a bigger property.
"Existing properties have never quite got what you want," says Mr Berridge, a 57-year-old engineer who lives in Weybridge, Surrey.
"Financially, new properties were very expensive, so if it was possible to build your own it would be far cheaper."
But a decade ago, and again when he tried more recently, he hit a major snag - the availability of land.
"Land is very hard to find. If you can find some land to buy for a single house, a developer will offer more and put three houses on it, so you can't compete," he says.
"Developers are on the look-out all the time, especially in the south-east of England where they can shoehorn in a few properties."
He was looking for plots of land, or a home that could be knocked down to build his own for his family, but the developers simply offered more money for the plots he could find.
"It is far more difficult to outfox developers, especially in this part of the country. Even then, planning committees are far tougher on individual applications," he says.
Mr Berridge once lived in northern Germany. He believes that the culture is different to the UK, as those who built their own homes were generally planning to live there for the rest of their lives.
Now his three children are grown up, Mr Berridge admits that he "tried and failed" to build his own home. The experience was intense for two or three years, he says.
He wishes anyone planning to try a DIY home the best of luck.