Diageo buys majority stake in India's United Spirits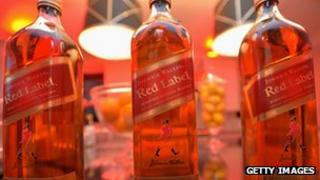 UK drinks giant Diageo is buying a majority stake in India's United Spirits group for £1.28bn ($2.04bn).
Diageo, whose brands include Johnnie Walker, Guinness and Smirnoff, will get a 53.4% share in Indian liquor baron Vijay Mallya's United Spirits.
The UK firm is upping its stake in India's growing drinks market.
The deal will help Mr Mallya reduce United Spirits' debts and free up funds for his embattled Kingfisher Airline.
The two companies announced in September that they were in talks.
Diageo and United Spirits initially started negotiations in 2008, but talks broke down the following year.
Diageo is initially buying a 27.4% stake for £660m in United Spirits, whose brands include Whyte & Mackay Scotch whisky.
The UK firm will then launch a mandatory offer for a further 26% stake in the Indian group.
Cash injection
In a press release, Paul Walsh, Diageo chief executive, said: "I am delighted at the opportunity Diageo has to be part of India's large and growing local spirits market.
"As a result of the agreements we are announcing today we will be well positioned to take the growth opportunities presented by a spirits market where growth is driven by the increasing number of middle class consumers."
Under the terms of the deal, Mr Mallya, the man behind Force India Formula One team and the troubled carrier Kingfisher Airline, will remain as chairman of United Spirits (USL) and United Breweries, which makes Kingfisher beer.
"I have had a long association with Diageo and therefore I am confident that this winning partnership with Diageo provides USL with the best possible platform for future growth," he said.
There has long been speculation that Mr Mallya would sell part of his stake in either United Spirits or United Breweries to raise money for his airline, whose planes remain grounded.
"Some of the Mallya group companies have been in turbulence for some time," said Jagannadham Thunuguntla of SMC Investments and Advisors Ltd in New Delhi.
"This is his final opportunity to revive the fortune of the group."
The purchase is the biggest inbound Indian mergers and acquisitions deal since the British oil firm Cairn Energy sold a majority stake in its Indian business to Vedanta Resources last year.
This deal by Diageo follows its takeovers of the Turkish spirits group Mey Icki and the Ethiopian brewer Meta Abo.