Administrator axes 330 jobs at failed retailer Comet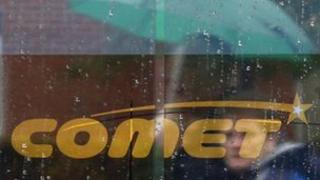 The joint administrators of Comet say 330 staff are being made redundant.
The cuts will be made at the retailer's head office and support centres in Rickmansworth (99), Hull (53) and a call centre in Clevedon (42).
There have been no redundancies at Comet distribution centres or stores, which continue to trade as normal and no further redundancies are planned.
All 236 Comet stores continue to trade as normal, and staff will continue to be paid, administrators say.
Administrator Neville Kahn said: "Staff will continue to be paid for the work they do while Comet is trading in administration. We remain extremely grateful to the staff and management for their continued loyalty and support at what is clearly a very difficult time."
All employees who have been made redundant will be receiving full wages earned during the administration. The administrators will also provide assistance in claiming payments from the government's Redundancy Payments Office.
Comet's future
Joint administrators Neville Kahn, Nick Edwards and Chris Farrington, from the business advisory firm Deloitte, were appointed last Friday to oversee a possible revival of Comet or sale of the business.
"We are in discussions with a number of parties who have expressed interest in parts of the business and we continue to work hard to preserve jobs," said Mr Kahn.
He added: "An in-store sale across all stores commenced yesterday and will continue through the coming weeks. We are pleased with the response so far, as the discounts have helped generate record levels of sales."
It is reported that rival electrical retailers Dixons and PC World enjoyed a surge in shoppers last weekend after Comet called in administrators.
Comet was forced into administration after its US backers pulled the plug.
OpCapita and its founder Henry Jackson agreed a deal to buy Comet from Kesa last year for just £2. The private equity advisory firm has been under fire from critics for allowing the retailer to collapse.