India's industrial production dips 0.4% in September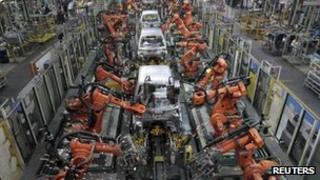 India's industrial output registered a surprise fall in September, adding to concerns about slowing growth in the country's economy.
Factory output fell 0.4% from a year earlier. Most analysts had projected a rise of 2.8%.
Manufacturing activity, which accounts for almost two-thirds of overall output, fell 1.5% from a year earlier.
The weak data has once again raised calls for policymakers to boost stimulus measures to spur growth.
"We believe this is high time for the central government to restore the investment sentiment by implementing and introducing some more policy stimulus," said Shakti Satapathy an analyst with AK Capital in Mumbai.
'Balancing act'
Like many of its regional neighbours, India's economy has also been hurt by the economic slowdown in the US and eurozone - which has hurt demand for the region's exports.
In an attempt to offset the decline in foreign sales, India has been trying to boost its domestic consumption to sustain growth.
Last month, India's central bank, the Reserve Bank of India (RBI) lowered the amount of money that banks need to keep in reserves in a bid to boost lending.
The RBI said the move would inject 175bn rupees ($3.2bn; £2bn) into the market.
However, analysts have argued that injecting cash into the markets may not be enough and that the central bank needs to cut interest rates to bring down the burden on businesses and consumers.
For its part, the RBI has said that keeping inflation in check is one of its top priorities.
But Moses Harding, head of asset-liability management at IndusInd Bank said the bank needed to do a "balancing act between growth and inflation".
""The trend in growth and inflation is clear; downward pressure on growth and uptrend on inflation into the near term," he said.