Bank ring-fence plan still best, Sir John Vickers says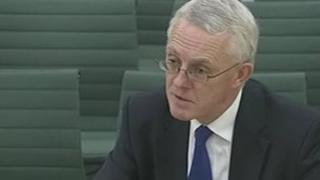 A break between the retail and investment arms of UK banks is still the best way forward despite recent scandals, Sir John Vickers has said.
In a report published last year, Sir John concluded that a bank's retail business should be ring-fenced from its investment work.
He told MPs on the Parliamentary Commission on Banking Standards that this remained the best option.
However, he added it would require "firm and effective" regulation.
The Parliamentary Commission is looking into banking standards and culture after the Libor affair.
Review of failures
The Independent Commission on Banking, chaired by Sir John, was set up by the coalition government to review the banking sector after the financial crisis.
It published its report in September 2011 and looked into ways of avoiding bank failures in the future.
It recommended that a bank's retail business should be ring-fenced from its investment business by 2019.
Crisis jargon buster
Use the dropdown for easy-to-understand explanations of key financial terms:
AAA-rating
The best credit rating that can be given to a borrower's debts, indicating that the risk of borrowing defaulting is minuscule.
Since the report was published, banks have found themselves embroiled in cases such as the alleged manipulation of the Libor inter-bank lending rate, and the mis-selling of interest swaps to small businesses.
'Firm regulation'
However, Sir John told MPs that he had not hardened his view, by recommending ring-fencing of banks rather than total separation of retail banks and investment banks.
"Standards have been lower than would have been expected," he said.
"But I do not see these events as shifting the balance of the argument against what we proposed, towards total separation.
"I believe the ring-fence will work. With the legal and other safeguards it will work, including on the cultural aspect."
However, he said that the plan - which is being adopted by the government - needed vigilance, the correct behaviour in banks, and "firm and effective" regulation.
If this failed, then he said he would not resist a complete separation of the banks different roles.
He said it was also important that the proposals received cross-party support.
He added that a redirection service, that allowed customers to swap easily between bank account providers, was an important step forward.
The service, that should be in place by September, would make it easier for consumers to switch banks and would improve the behaviour of banks as they tried to attract customers, he said.